WSOP Player of the Year Race – Who Will Be Crowned King in 2023?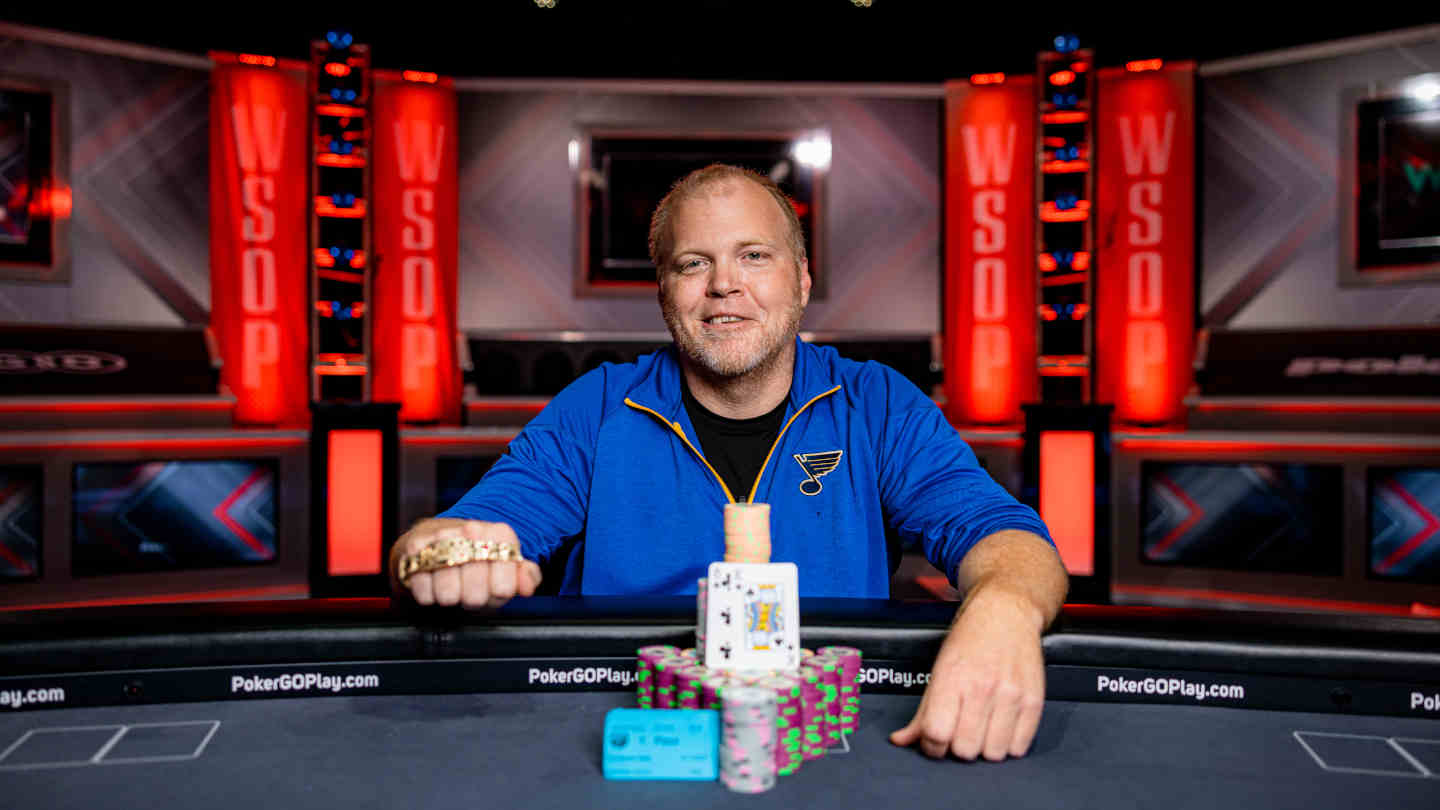 We are now two weeks into the 54th Annual World Series of Poker, and we have seen quite a few big names improve their resumes with new shiny golden bracelets added to their collections.
The likes of Chad Eveslage, David "ODB" Baker, Josh Arieh, Nick Schulman, and Shaun Deeb have dominated the headlines over the last two weeks, with plenty of other big-name pros chasing after them.
Like every year, all the pros are dreaming not only of bracelets and cash, but also the coveted Player of the Year (POY) title, one of the most prestigious awards in all of poker.
With about a third of the Series now behind us, we take a look at the current frontrunners for the POY title and assess their chances of actually capturing the trophy.
At the same time, we are taking a look at some dark horses who could come out of the woodwork and take the title down in the second half of the Series.
Gladiator Jason Simon Leading the Way
It has been an epic World Series for Jason Simon, an American poker player whose previous WSOP record was made up of a single WSOPC Ring and under $20,000 in overall cashes.
This year, Simon came to Vegas with big hopes, and ended up taking down one of the largest poker tournaments ever played, the $300 Gladiators of Poker event, worth $500,000.
Jason Simon is the @WSOP Gladiators of Poker champion!!!

Simon turns his $300 buy in into $499,852 with the win and adds a gold bracelet to his collection to go along with a WSOP Circuit ring which he won in 2020.

📺 – Watch a full replay of the event here:… pic.twitter.com/m1KOax5YLb

— PokerGO (@PokerGO) June 13, 2023
Jason also cashed a $600 NLH/PLO Mix event, but the majority of his POY points came from his big win.
The massive field in the Gladiators of Poker tournament ensured that Simon would take the lead in the POY race with 2,484 points, ahead of Chad Eveslage in second place.
While there is no denying that Jason Simon is an amazing poker player with a lot of talent, his chances of winning the POY title in the end seem relatively low.
Not only is Simon not an elite poker player compared to some of the others chasing down the trophy, but he has shown no interest in playing any mixed game events, nor any of the higher buy-in tournaments.
This means he would need to get lucky and plow through another massive field in a small buy-in Texas Hold'em event to actually stand a chance, which is fairly unlikely to happen.
That said, Jason's first bracelet alone is almost guaranteed to book him a high finish on the POY leaderboard, which will be one of the greatest accomplishments of his poker career to date.
Eveslage's Double Good for Second Place
The first player on our list who actually has a reasonable chance of going all the way is Chad Eveslage, a monster that came out of the dark to win his first WSOP bracelet last year in the $25k High Roller, only to improve on that by winning two bracelets already this summer.
Chad's wins came in the $1,500 Dealer's Choice and the $10,000 Dealer's Choice, demonstrating the player's immense skill and versatility, something that players his age often don't have.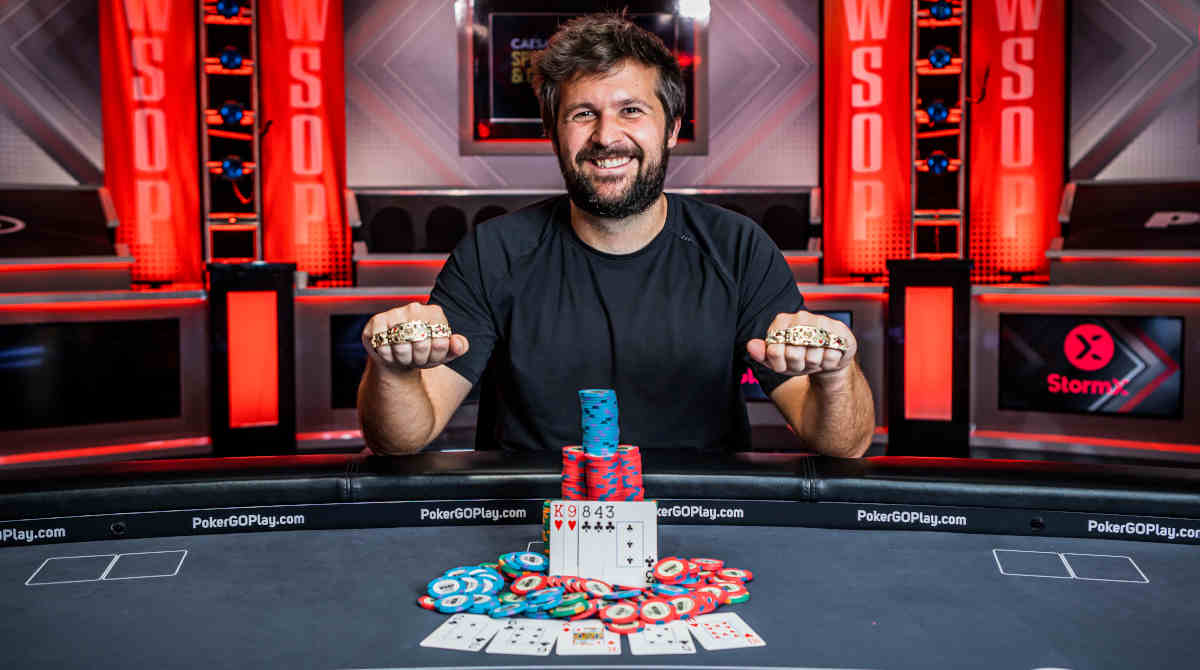 Images courtesy of wsop.com
Eveslage also placed 12th in the $10k Seven Card Stud Championship, busting very close to another final table appearance at the 54th Annual WSOP.
These results combined won Chad 2,168 POY points, putting him in second place in the race and giving him a reasonable chance to actually go all the way.
He will need to record some more cashes, and likely at least one or two more final table appearances, but there are plenty of mixed game events yet to come, and he seems to be very much in the zone.
Years of Experience Proving Key for ODB
David "ODB" Baker currently sits in the 4th place of the POY race with 1,489 points, some ways behind the leader Simon and Chad Eveslage in second.
David won the third WSOP bracelet of his career in the $1,500 Razz event just the other day, while also placing 8th in a $1,500 Limit Hold'em and the first-ever $1,500 Badugi tournament at the Series.
Make that three bracelets for @audavidb following his incredible come-from-behind victory in Event #24: $1,500 Razz for $152,991!

Congratulations, David! pic.twitter.com/HseDnf91RS

— WSOP – World Series of Poker (@WSOP) June 12, 2023
It goes without saying that the original David Baker is one of the legends of the game and most talented mixed game players in the field these days, which is why his results come as little surprise.
David "ODB" Baker has continually posted significant results at the WSOP and has been involved in the POY race in the past, which is why we believe it is reasonable to expect him to make further strides this year and seriously challenge for the title.
Nick Schulman Doing It in Style
Everyone's favorite poker commentator Nick Schulman does the commentating gig on the side, while being one of the best poker players in the world around the clock.
Nick's incredible results on the tournament circuit have not gone unnoticed. The fourth WSOP bracelet he recently won in the $1,500 Seven Card Stud event is yet another testimony to his undeniable talent and perseverance.
Nick could have gone further up the ranks on a couple of occasions this summer already, as he finished 7th in the $10k Limit Hold'em Championship and 11th in the $1,500 Eight Game Mix, but it was not meant to be just yet.
Schulman currently sits in 5th with 1,476 points, but his skills in all the poker games and his will to post the necessary hours could just be enough to allow him to seriously contend for the POY title.
Nick is one of the younger generation players who are destined for the Poker Hall of Fame induction at one point. This year could be a big step in that direction if he can add a few more deep runs and perhaps the 5th bracelet as well.
Josh Arieh Back in the Winner's Circle
At this point, Josh Arieh is a living legend of the game of poker and a player everyone in the community knows and loves.
Arieh added to his impressive trophies cabinet this summer by taking down the $10k Limit Hold'em Championship after defeating a stacked final table that included Limit Hold'em specialists and other pros alike.
That's bracelet number FIVE for @JoshuaArieh: pic.twitter.com/GiEpP7FyEK

— Jeff Platt (@jeffplatt) June 12, 2023
On top of that, Josh also has a total of eight WSOP cashes already, which is an impressive feat given how early in the summer it is.
All of this is good for 1,309 points and 9th place overall, but we highly doubt we have heard the last of the 2021 Player of the Year who will be hungry for more success and a historical double that is looming.
Never Underestimate Shaun Deeb
At the time of writing this, Shaun Deeb sits in 64th place of the POY race, but this is without counting the 1,000 points he won for taking down his 6th career WSOP bracelet in the $1,500 Eight Game Mix event just a couple of nights ago.
Deeb has been one of the top players in the WSOP POY race for years now, and is looking for his second POY title after winning his first in 2018.
Shaun's tournament prowess is legendary at this point, and there is no denying that he is one of the best tournament poker players in the world at this time.
Just two 6 time @wsop bracelet winners hanging out pic.twitter.com/P1wBY82OYA

— shaun deeb (@shaundeeb) June 14, 2023
His exploitative playing style and controversial personality have made Deeb into somewhat of a villain in the poker world, a role he enjoys the vast majority of the time, and one that the poker world knows is mostly for show.
What's even more impressive about Deeb's current standing in the 2023 WSOP POY race is the fact he is playing while also taking part in his legendary body mass index bet with Bill Perkins, which has driven him to eat healthy and exercise for the first time in his life.
This hasn't stopped Deeb from booking a 5th and a 2nd place in the early days of the Series on top of his 6th bracelet, which now makes him one of the top contenders for this year's title.
We can expect to see Shaun register practically every WSOP event that's left this year, and to be one of the favorites for a deep run in nearly each of them, giving him a very fair fighting chance.
It would be a truly epic year for Deeb if he could capture another bracelet, win the POY title, and manage to take down the prop bet against Bill Perkins, all at the same time!
Where is Daniel Negreanu?
It's been a slow start for Daniel Negreanu at this year's WSOP, as he has only managed five small cashes and zero final table appearances so far this summer.
It's still very early in the summer, of course, and there is plenty of time for Daniel to join the POY race, but he currently ranks outside of the top 100 and hasn't really captured too many points to speak of.
His deepest run this year has been in the $300 Gladiators of Poker event, where he managed to get into the top 100 before busting out, an impressive feat given that there were over 23,000 entries in that one.
INSANE RUN in the Gladiator event Day 13 Vlog goes LIVE in 30 minutes!

Full Video is in the post below but here's a preview: pic.twitter.com/7vzmV9BQfF

— Daniel Negreanu (@RealKidPoker) June 12, 2023
That said, the GGPoker ambassador is always one to watch in most poker tournaments, and before the summer is over we are nearly guaranteed to see him make a deep run and fight for a bracelet.
You can keep track of Daniel's adventures in his recurring WSOP Vlog, which he posts daily on his popular YouTube channel.
Traditionally, Daniel has been the other big name to look out for along with Shaun Deeb when it comes to the POY race, so make sure to look out for his name in the chip counts and results of this year's WSOP.
Our WSOP 2023 POY Prediction
There is still a lot of WSOP action to go this summer and plenty more tournaments to be played, but we feel confident enough to start making some predictions.
Without a doubt, Shaun Deeb currently stands as the big favorite to win the POY title, as his results have been impressive already and his hunger for bracelets seems greater than ever.
Shaun could have easily won two bracelets already this summer, and his win against more than 700 players in a mixed game event just goes to show what a monster he is regardless of the field size.
The likes of Josh Arieh, Chad Eveslage, and Nick Schulman will be chasing after Deeb for the rest of the summer, and one of them could end up having a truly epic year to take down the coveted trophy.
The likes of Daniel Negreanu or high rollers like Adrian Mateos or Alex Foxen could also make a run at it by taking down the high roller events and final tabling a couple of smaller ones.
Realistically speaking, though, Negreanu is the only one who will be putting in the required volume to make a late run at the POY title.
Make sure to stay current on what's happening in the POY race as we post further updates later in the Series and let you know exactly how your favorite poker players are doing as the summer goes by.