David Peters' Poker Journey: The Makings of "The Silent Assassin"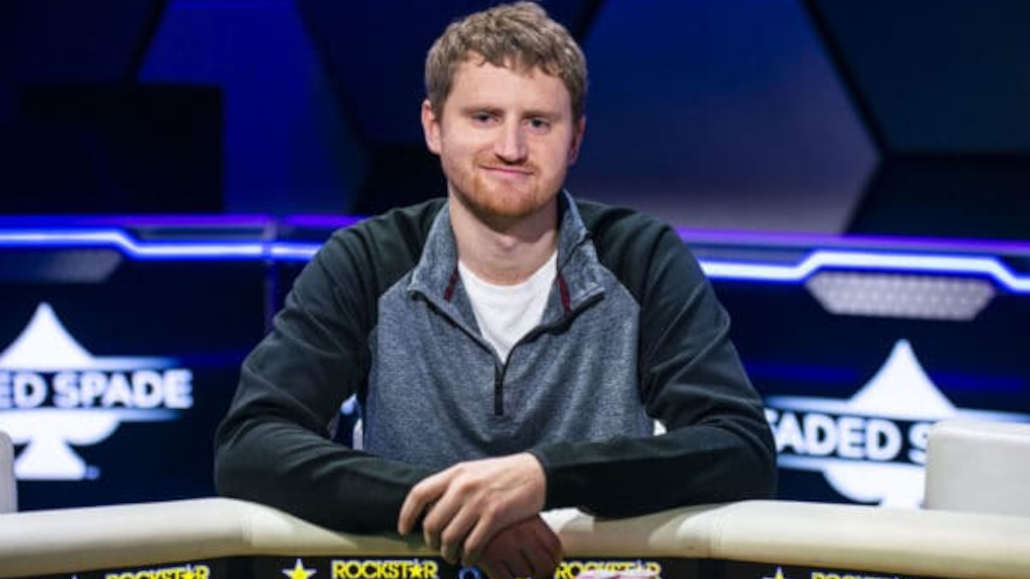 Image from Upswing Poker
Some poker players are worldwide phenomena that are constantly in the public eye and share everything with the media and their fans.
Others, however, enjoy cherishing their privacy while still maintaining a prolific poker career and owning their opponents at the green felt.
One such character is David Peters, who is also known by his nickname "The Silent Assassin." Peters acquired this nickname through his demeanor at the tables and the way he has been dominating the tournament circuit for some years.
Peters is best known for his poker prowess, and what little we know of his private life tells us he enjoys traveling, although most of his travels include playing the game we all love so much.
David Peters' Career Highlights
Started playing poker online at the age of 17
Inspired to play by Chris Moneymaker and cashed his first live Event in 2006
Won one live WSOP bracelet in the 2016 $1,500 Limit Hold'em Event
Won two online WSOP bracelets in 2020 and 2021
A household name on the high-roller tournament circuit
Won the 2016 GPI Player of the Year Award
Won the 2021 US Poker Open Player of the Series Award
Has over $38 million in live and over $6 million in online tournament earnings
Won numerous famous online tournaments such as the Sunday Million
David Peters' Early Life and Upbringing
Peters was born on April 16th, 1987, in Toledo, Ohio. True to his nickname "The Silent Assassin," David hasn't shared much personal information about his early life or family with the media.
He became interested in poker after watching Chris Moneymaker win the 2003 WSOP Main Event. This inspired him to start playing poker online, as he saw that an 'average Joe' with not a lot of poker experience was able to win the World Series of Poker.
Peters began that year with online freerolls but realized he had quite a lot of learning to do and that it wasn't so easy to win money at poker.
He taught himself about the game and grew his skills enough to win a poker tournament for approximately $600, sparking his interest in poker even further.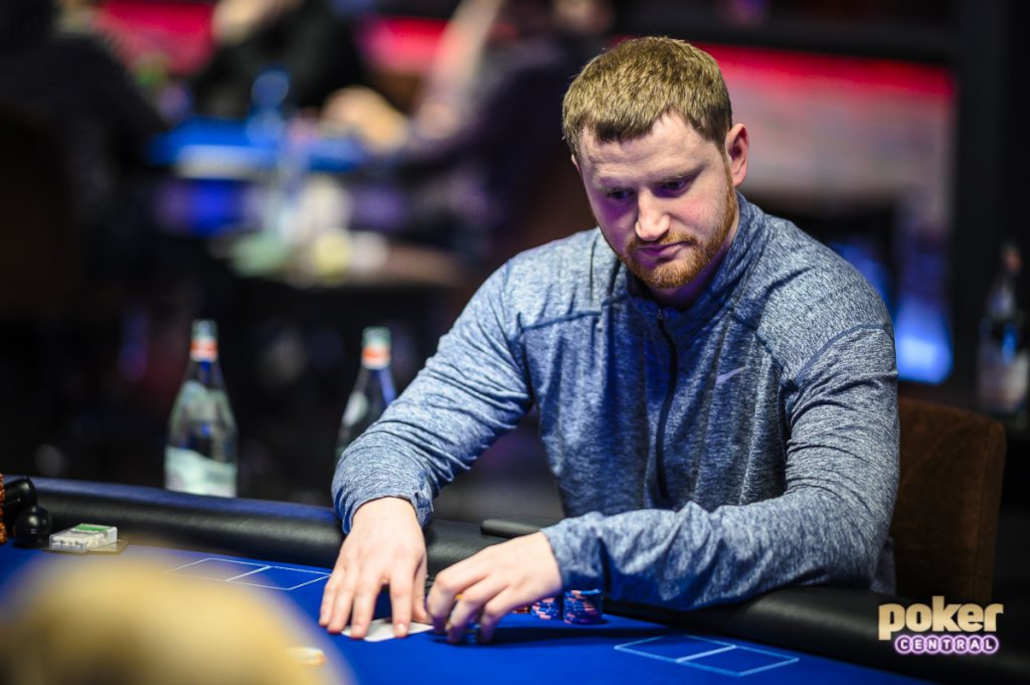 Image from PokerGO News
At the time Moneymaker won, Peters was just 17 and still in high school, hence the online username of DPeters17 on PokerStars and later Davidp18 on Full Tilt Poker.
While he looked at the game as just a hobby in the early days, over the years, Peters managed to amass over $6.5 million in online MTT cashes on his accounts.
After a few years of playing online, Peters decided to take his career to the next level and try his hand at live tournaments in 2006.
Live tournament circuit ended up being his bread and butter. He excelled at making the right plays at the live felt, quickly becoming a nightmare for tournament players across the globe.
David Peters' Professional Poker Career
Peters officially played his first live tournament in December of 2006 when he took part in the Ongame Network Poker Classic in Barcelona. He placed 7th in the $5k Texas Hold'em Event and took home $56,549.
In January of 2007, David placed 31st at the 2007 PCA tournament in Paradise Island and participated in the $7,800 + 200 No-Limit Hold'em World Poker Tour Championship Event winning $17,787.
Peters' career only kept growing, and he finally managed to win more than $100k in a single live event in August of 2008. He played in the $1,500 Main Event at the Heartland Poker Tour in Mt Pleasant, MI, and won $130,178.
That same year he won his first WSOP Circuit ring, winning the $1,060 NLHE event at the Caesars Palace in Las Vegas for $86,908.
In 2009 he had another significant win in Vegas at Fest Al Lago, where he won the $5,000 + 180 No-Limit Hold'em Event for $104,760.
2010 brought three different six-figure scores for Peters. In April, he placed 2nd at the €5,000 + 250 No-Limit Hold'em – Six-Max European Poker Tour Grand Final at Monte Carlo and added $123,809 to his poker bankroll.
Only three months later, he took part in the 41st annual 2010 World Series of Poker. Peters placed second in the $1,000 No-Limit Hold'em Event and went home with a massive score of $350,803, just barely missing out on his first WSOP bracelet.
At this point in his career, Peters was certainly a force to be reckoned with, and his name was becoming well-known in the world of poker.
With the momentum he gained from the WSOP, Peters participated in the 2010 North American Poker Tour in Los Angeles and played in the $4,750 + 250 No-Limit Hold'em Event.
There, he took home $112,257, wrapping up a very successful year.
While 2011 was not a massive year for him, he managed to book one interesting score in the $25,000 + 500 No-Limit Hold'em World Poker Tour Championship in the Ninth Annual Five Star World Poker Classic in Las Vegas, where he placed 7th and bagged $172,559.
For the rest of 2011 and all of 2012, David Peters took part in a few tournaments but didn't have too much to show for his efforts.
He placed 4th at the €10,000 + 300 No-Limit Hold'em – 8 Max Re-Entry at the European Poker Tour in Berlin – taking home $81,969 and missing out on an EPT win. It wasn't until 2013 that he went back to his winning ways..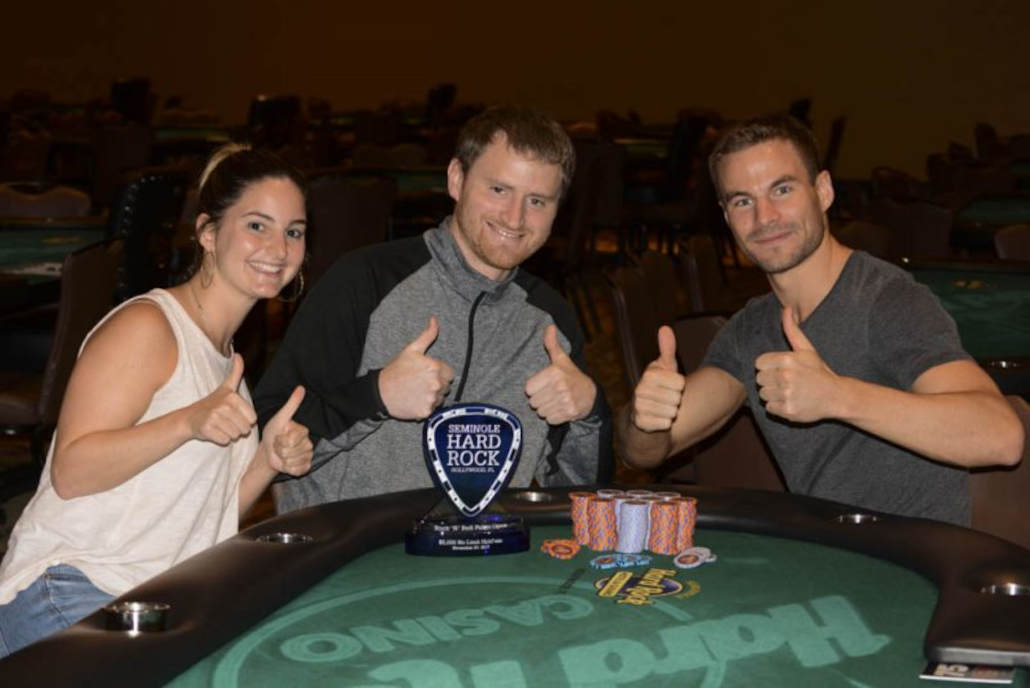 Image from Seminolehardrockpokeropen.com
In May of 2013, Peters placed 2nd at the Italian Poker Tour Sanremo, the €2,000 + 200 No-Limit Hold'em Main Event, and won $201,826, once again missing out on a major tournament title.
In July, he finally booked a win at the Bellagio Cup IX in Las Vegas, taking home $355,093, following a relatively successful WSOP that saw him cash many tournaments but unable to close the deal in any.
In October of 2013, David played in the €25,000 + 600 No-Limit Hold'em High Roller Event 7 at the World Series of Poker Europe.
He placed 4th and won $204,425. To bang out an already eventful year, he placed 1st at the EUREKA High Roller in December in Prague. The event in question was a €2,000 + 600 No-Limit Hold'em High Roller, and Peters took it down for approximately $179,515.
Going from Strength to Strength
Things just got better and better for Peters as the years went on. He truly homed in on his skills after playing in so many events and was able to rack up $2.5 million USD in tournament winnings in 2015 alone.
He started the year off right when he placed first at the European Poker Tour in Malta, Portomaso in the €10,000 + 300 No-Limit Hold'em High Roller Event Number 53 – taking home $653,552.
In July of 2015, Peters won a million dollars for the first time in his career, when he placed 5th at the $500,000 No-Limit Hold'em Super High Roller Bowl in Las Vegas.
He took home a whopping $1,505,000, although this was a disappointment considering his fellow pro Brian Rast took home $7.5 million for winning the Event.
He ended the year the way he started it by winning the $24,000 + 1,000 No-Limit Hold'em Aria High Roller in Las Vegas in December of 2015 to add another $426,240 to his resume and cement his name in the poker books.
2016 was the year that made David Peters into the poker legend he is today. He not only earned $7.5 million in tournament cashes (three times as much as 2015) but he was also crowned the GPI Player of the Year.
Just three days into the year, Peters broke his own record for the biggest cash of his tournament career, winning $2,699,752 in a $200,000 buyin Triton Super High Roller Event in the Philippines.
Once again, Peters came second and missed out on a major title.
David kept on racking up significant results, coming top four in a number of tournaments in early 2016, but unable to book any wins.
At this point in his life, Peters was a common name to see on the entry lists of the biggest live events in the world, but the big score that marked his 2016 actually came in a tournament with just a $1,500 buyin.
Peters' time to shine at the WSOP finally came, as he entered Event 56, $1,500 Limit Hold'em, and beat a field of 1,860 entries to win his first gold bracelet along with $412,000. For David, the title probably meant more than the money at this point in his career.
The High Roller King
Big scores kept on pilling up, as Peters would enter any tournament with $25,000 buyin or higher he could find and cash them quite often, with multiple wins in the Aria High Rollers marking his 2016.
In December, David once again came close to a major tournament title, this time defeated by Jasper Van Putten and Marton Czucsor at the €5,500 EPT Main Event in Prague. He came third and won approximately $420,000 for his efforts.
It was a lot more of the same for David Peters' poker career in 2017, as he kept on cashing numerous events, winning Aria High Rollers, and keeping his name at the top of the GPI lists.
High Rollers and Super High Rollers remained his game of choice going into 2018. In July, following a number of significant cashes, he won the Triton Poker Series Super High Roller in Jeju for over $1.1 million.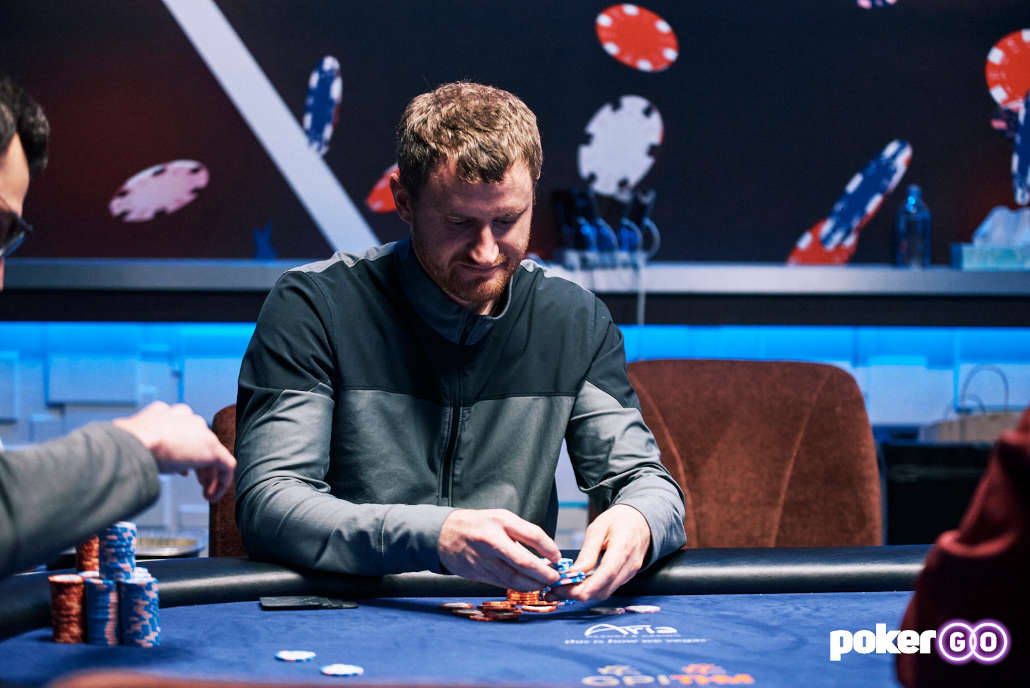 Image from PokerGO News
In September 2018, Peters competed at the Poker Masters, a Series that pit the very best players in the world against each other. He won two events, including the $100,000 Event 7 for more than $1.1 million.
This tourny is dedicated to everyone who said I wouldn't make it past the mid stakes. To all the people that kept telling me to stop firing so hard, when I was just trying to make some money to feed my high stakes gambling addiction. To all the blasters in the struggle. #SHRBowl

— David Peters (@dpeterspoker17) May 27, 2018
Before the year ended, Peters would record several more seven-figure scores, winning $1.84 million for a second-place finish at the WSOPE Super High Roller, $1.1 million at the $100k Fall Madness, and $1.4 million in the $250k partypoker Caribbean Poker Party, Nassau, Super High Roller.
Million-dollar scores were no longer a standout event on Peters' poker resume, which is why wins became even more important.
In 2019, Peters managed to win his first-ever US Poker Open tournament, taking down the $100,000 USPO Event 10 for $1.23 million.
As 2020 roller around, David Peters was a name everyone in the poker world knew and respected. The pandemic made live poker go on hold, which did not stop him from owning at the virtual felt.
Events like the Super High Roller Bowl, Poker Masters, and the World Series of Poker all moved online, and Peters was once again right at the center of things.
He managed to book wins in Poker Masters, WPT, and Super High Roller Bowl events before the summer had even rolled around, showing that online poker felt was maybe even more comfortable for him than live.
As the time came for the WSOP 2020, Peters was more than ready. On August 9, he won his second WSOP bracelet in the $10,000 Heads Up No-Limit Hold'em Championship, taking home $360,000 to go along with the title.
Live poker returned in 2021, and Peters just kept on dominating. In June 2021, he attended the PokerGO sponsored US Poker Open in Las Vegas and won three events, placed 2nd in another, and absolutely dominated the series.
He came first on the Series' overall leaderboard with 646 points, significantly more than Sean Winter in second and Ali Imsirovic in third place.
As if he still had something to prove, Peters went back to the world of online poker in summer 2021 to play the WSOP Online version. He took first place in the $7,777 Lucky 7's High Roller event and added a third bracelet to his silverware collection, along with another $283,940.
David Peters' domination of the poker world does not seem to be anywhere close to ending, as he continues to win and cash in events ranging from $1,000 to $1 million all over the globe, and his incredible hunger for poker titles and silverware seems to be truly unquenchable.
David Peters' Net Worth
The net worth of famous poker players tends to vary quite a bit, with many familiar faces worth only a few million at best and some of the less popular players often being incredibly rich.
David Peters certainly falls onto the higher end of this spectrum, as his tournament poker results alone have seen him win more than $38,000,000 in cash.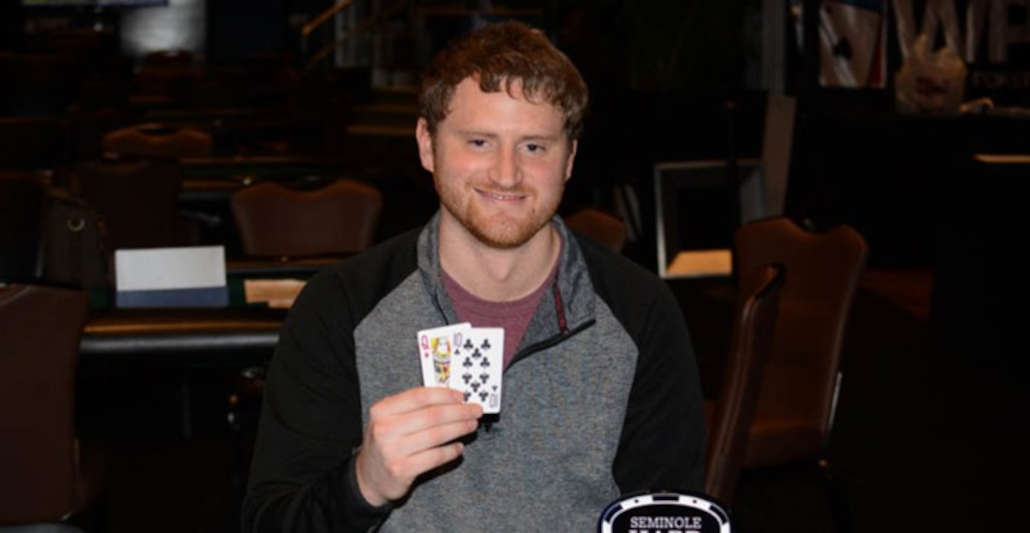 Image from Paulphuapoker.com
Of course, a significant amount of that went towards the buyins, but it is safe to say that Peters has won at least $10,000,000 in pure profit from tournament poker.
If trends are anything to go by, Peters probably joined his fellow poker pros in smart crypto investments, which possibly made him tens of millions of dollars in profit on top.
Without any clear indication of his investments, I am going to speculate that David Peters' net worth today is $30,000,000, with a tendency to grow even more in the future.
What's David Peters Up to Today?
As you could probably figure from his nickname alone, David Peters is not a very vocal guy and does not like to talk about his personal life too much.
From Peters' social media posts, we can tell that poker is his true passion and that he enjoys high-stakes gambling away from the poker tables as well.
While Peters never really talks too much about his life, he did an occasional interview for the media and mentioned some private stories.
In one of them, he talked about betting with his friend on a game of Yahtzee during a social gathering and losing $30,000 just like that.
From some Tweets posted on his Twitter account @Dpeterspoker17, I was able to deduce that David does like to party as well, although the exact nature of his private parties remains a mystery.
That moment when you're throwing a massive party and have 2 carts full of alcohol and run into your landlord at the checkout lane

— David Peters (@dpeterspoker17) October 1, 2016
If you asked me what David Peters was up to at this exact moment, I would tell you he's sleeping or playing poker, and I believe I would be right about 80% of the time, as it is quite clear that the game is by far this man's number one passion in life.