Rampage Shatters Polk in Heads Up Duel at The Lodge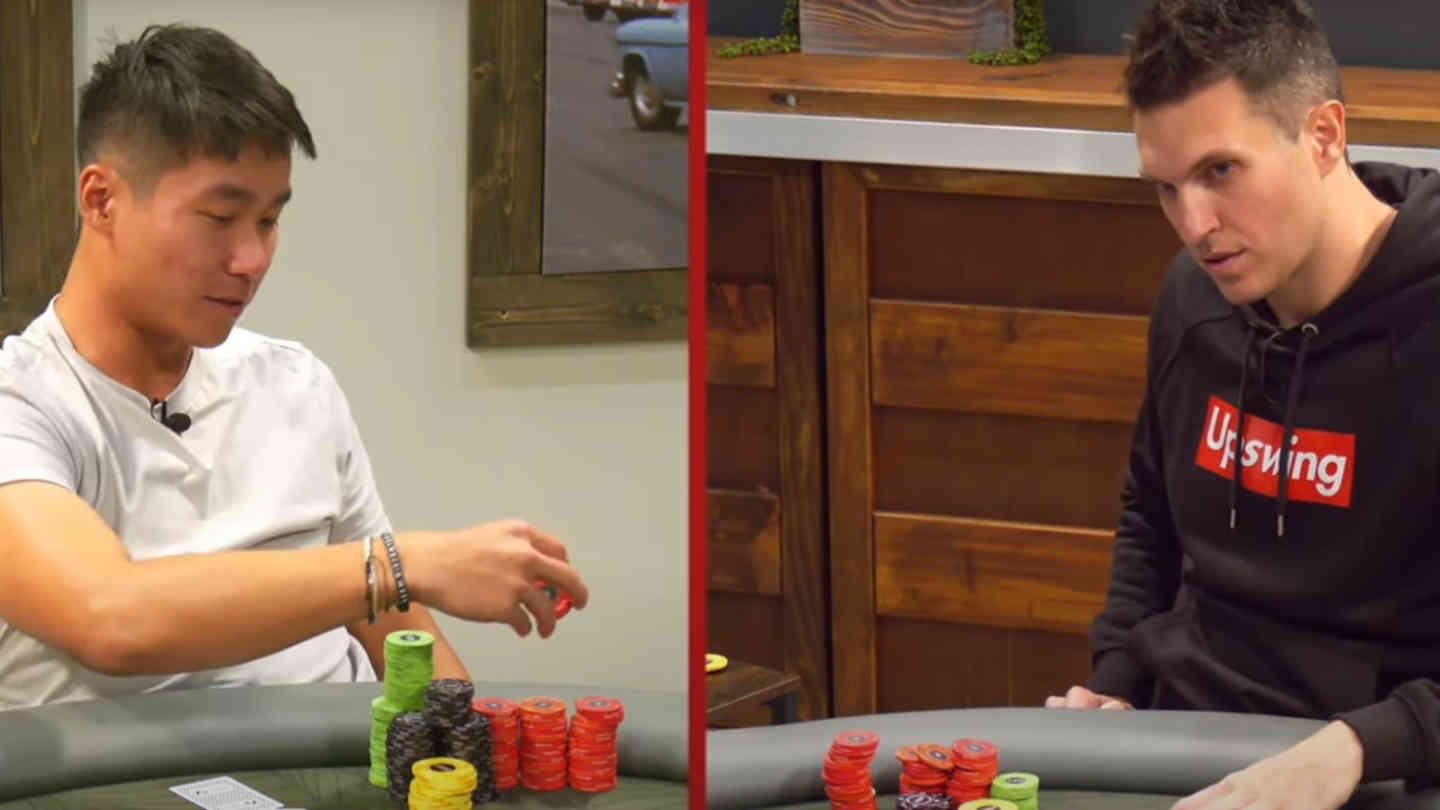 5 minutes
Last Updated: October 13, 2023
The much anticipated heads up duel between Ethan "Rampage" Yau and Doug Polk went down at The Lodge, and the young YouTube superstar booked a sizable win over arguably the best heads up poker player of all time.
The two sat down to play their session with blinds at $10/20, fairly low for their standards, and $2k in each stack, clearly wanting to keep the encounter friendly and not have it turn into a bloodshed.
The lower stakes were likely Rampage's preference, as he was the one going into the duel with very limited heads up experience, while Doug has been playing just about anyone at $200/400 for quite some time now.
While the stacks grew quite a bit throughout the duel, we never saw quite the amounts of chips we are used to seeing these two play for, which ensured that the entire match would indeed stay friendly.
Along with a good chunk of friendly banter and good laughs, we saw the two play very aggressive poker, with pots often getting quite big for the stakes being played.
When all was said and done, it was Rampage who booked a win for himself and his StakeKing backers, with the final tally of +$15,050 in cash, or more than 750 big blinds.
Rampage Enters the Ring
Going into the match, Rampage was considered to be quite a big underdog, as his experience playing one-on-one poker was very limited, and even more so when it came to the deep stack heads up match that was about to go down.
Yet, never one to back down from a good challenge, Yau made his way down to Texas, where he will also be hopping into a few juicy cash games over the remainder of the week.
The first part of the trip, however, was the heads up game with Doug, and this one was probably the least comfortable part for Rampage.
GGs Doug, a dub for everyone who bought action on @StakeKings
+$15,050 🙂 more poker this weekend https://t.co/KgMVLcRbFB

— Rampage (@rampagepoker) October 13, 2023
With stakes set quite a bit lower than what both players are now used to, the game started in a very relaxed fashion, with a lot of table talk and fairly quick play.
With starting stacks at just $2k each on first hand, reloads came quickly, and there was over $10k in play less than two hours into the match.
Both players were willing to pull the trigger in every spot they could, trading pots back and forth, with nether getting the best of it over the first couple of hours of play.
American Airlines Send Rampage Flying
It was at around the half-time mark of the six hour match that fortunes turned greatly in Rampage's favor, as he was able to win the biggest pot of the night and more or less secure the win.
Sitting on the dealer button, Doug looked down at one of the very best hands in Texas Hold'em, a pair of Kings, and was more than happy to raise it up to $60.
The fans at home already knew that things were about to happen when the graphics on the live stream showed that Rampage was sitting pretty with A♠A♣, as the ultimate poker cooler was about to unfold in front of their eyes.
With both players sitting on more than $8,000 in chips, there was a very high likelihood it would all go into the middle, and the only question was whether Doug could get lucky, while for Rampage the only unfortunate thing was that the stakes were set so low.
Ethan bumped it up to $220, Doug 4-bet to $660, and Yau fired one of the few 5-bets of the match, making it an even $1,400. This time around, Polk would just call and set the trap, not knowing that he was, in fact, the one being trapped.
Off to the Races
The board of 6♣6♦4♣ would be on no help to either player, as Yau's small c-bet was once again called by Doug, whose K♦K♣ was still likely to be the best hand, just not this particular time.
The turn was an inconsequential 9♠, and Yau continued for $1,250, another small bet that Doug would always call with his kings.
The dealer put out the 9♦ on the river, and although the board was double-paired now, there was practically no chance of either player holding a full house.
Instead, the only thing Doug Polk had to think about was whether Rampage actually had aces or not. Ultimately, his decision was that it doesn't matter and that KK was an obligatory call in this situation.
So, when Rampage announced he was all in for his last $4,800, Doug snap-called and immediately saw the bad news, turning his kings over to display the severity of the cooler.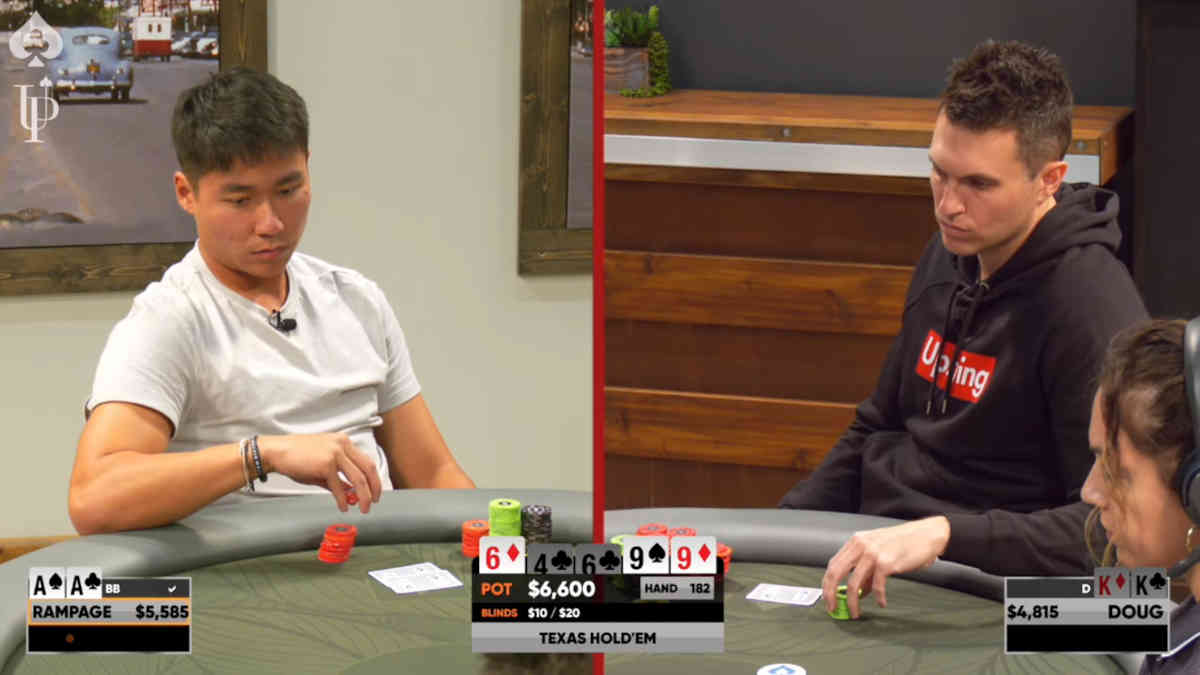 Of course, AA against KK will always turn into a significant pot in a heads up match, but even more so when the hands are dealt to two competent players, both of whom are capable of having way worse in this spot.
While the hand was particularly unlucky for Polk, he could count his blessings that it was not dealt during one of his $200/400 matches, where he could have easily lost $100k or more.
As it stood, Doug lost the $16k pot, by far the biggest of the night, and would go on to reload for $10k, taking the loss in stride.
More Action at The Lodge This Week
The heads up match between Rampage and Polk may have not gone the way Polk wanted it, but he will have plenty of opportunity to turn things around at his own poker club this week.
Two major cash game sessions are on the air on Friday and Saturday night, both featuring Polk and Rampage, alongside other high stakes legends like poker streamer Mariano and The Lodge staple Taras.
Took a -16k spanking from @rampagepoker in our HUNL match tonight.

Playing the HU open tomorrow and then a high stakes cash stream on Saturday!

Plenty of chances to make it back, will have some great streams next couple days.

— Doug Polk (@DougPolkVids) October 13, 2023
The lineup guarantees some hectic action, massive pots, and crazy banter, and with blinds starting at $25/50/100, we can expect the action to swell quite a bit more than it did on Thursday night.
Make sure to stay tuned, find out what happened down at The Lodge, and whether or not Polk managed to turn things around on his home turf to book an overall win for the week of action with some of the top live poker players around.