Seiver and Hellmuth to Play a $1.6 Million High Stakes Duel Rematch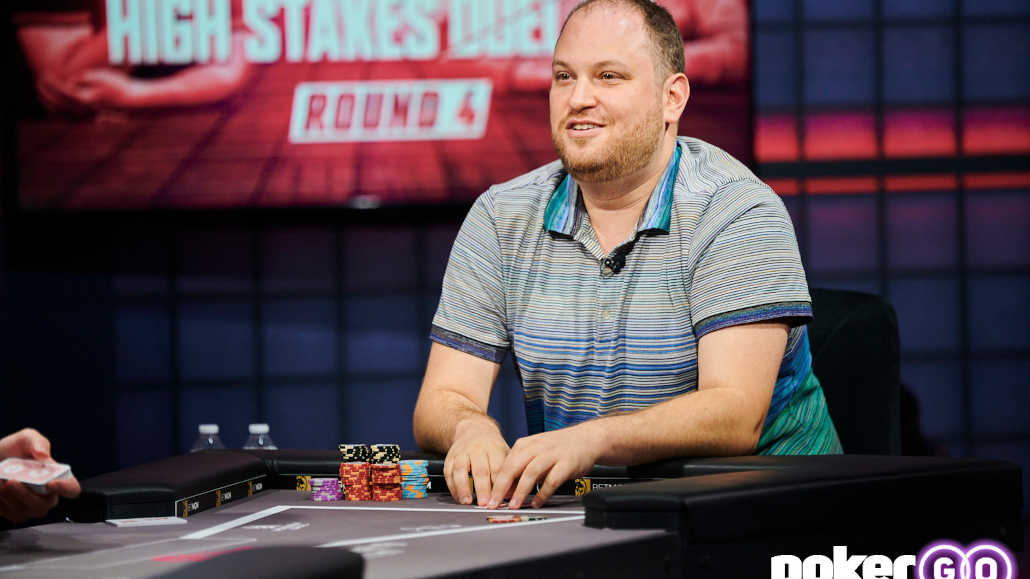 When the most recent round of the High Stakes Duel between Phil Hellmuth and Scott Seiver ended, the challenger informed Phil that he would be taking his option to play a rematch, and it appears that the next match between is now being arranged.
According to a recent Tweet by the 16-time WSOP bracelet champion, the two are set to play the next round of the HSD at the PokerGO studio sometime in August. The exact date is still being discussed between the players and the production.
The two last met in May, when Hellmuth defeated Seiver in an $800,000 match, which was the Round 4 of the ongoing High Stakes Duel.
Now, Seiver will have to pony up $800k of his own money to take on the champion and try to win back the money he lost in the last round and then some.
What Happened in Round 4?
Scott Seiver took on the role of the High Stakes Duel challenger when Tom Dwan decided to cancel his commitment to play due to scheduling issues.
Tom had previously lost to Hellmuth in the $200k round and wanted revenge, but his commitments in other parts of the world prevented him from playing.
Scott stepped in hoping to sweep the floor with the tournament specialist and take home an easy $400k profit.
However, Hellmuth's resilience and a unique playing style he likes to refer to as "white magic" did the trick.
Phil defeated Seiver in what he called his most exciting High Stakes Duel match thus far, taking his tally on the show to an impressive 9-1.
Almost all of his wins were against top-tier poker players like Antonio Esfandiari, Daniel Negreanu, and Tom Dwan.
Not one to shy away from a challenge, Scott immediately announced that he would be playing the next round too, likely believing himself to be a favorite to win against a tournament specialist who is riding out a hot streak in the heads up sit and go format.
Here we go for $1,600,000. High Stakes Duel update: @scott_seiver has exercised his option to play me in a heads match for $800,000 apiece ($1.6M). The match will be in August, we are working out dates right now. Match is ONLY on @PokerGo App, and will be shown in it's entirety

— phil_hellmuth (@phil_hellmuth) June 14, 2022
Whether Scott can win his money back or not remains to be seen in August. Hellmuth is likely to exercise his right to walk away with his profits if he can lock up the $1.6 million win in Round 5.
As per the rules of the show, Scott would not be able to cash out the win if he was to defeat Hellmuth.
Instead, he would have to keep going against another competitor or the Poker Brat himself, should he decide to pay the $1.6 million buy-in for Round 6.
Heads Up Duel Scheduled for Post-WSOP
The main reason we will have to wait until August to see the next episode of the High Stakes Duel, of course, is the currently running World Series of Poker, which both players are currently heavily involved with.
Scott Seiver has already managed to make his summer a huge success, winning bracelet number four in a $2,500 NLH Event #3, along with $320,059, which will certainly help cover the cost of the Round 5 buy-in for the High Stakes Duel.
Seiver continued to grind the WSOP on a daily basis, and even entered the quirky $1,000 FLIP & GO Event an incredible 43 times without managing to beat his table even once!.
43 flip and goes later and I'm not even playing the tournament. #JBL

— Scott Seiver (@scott_seiver) June 12, 2022
On the other hand, the WSOP bracelet record holder has been absent from the early events of this year's Series due to unexpected circumstances.
One of the most decorated tournament players of all time suffered from what he called "traveler's diarrhea" for a day or two, only to test positive for Covid-19 as he got back to playing poker.
Hellmuth is doing better now and we can expect to see him play in plenty of WSOP events over the coming weeks, while we wait for PokerGO to release the date for the next round of the popular heads up poker show.