WSOP 2022 Week 1 Wrap-up: Smith Captures His First, Seiver Adds Fourth Bracelet
The first week of the World Series of Poker 2022 is in the books, and although it was short, it was an eventful one.
Like every year, things officially kicked off with the Casino Employees event, and the tournament attracted quite a field, with 832 participants fighting for what was to be the first WSOP 2022 bracelet.
When the dust settled, that honor went to Katie Kopp, an experienced casino dealer, and a poker player. This was also the first bracelet for Kopp, accompanied by the $65,168 first-place prize.
The next few days saw some fierce action at the tables of Paris, and Bally's, the new home of the World Series, and the first few bracelets found their new owners.
First WSOP Gold for Dan Smith
There is no poker fan out there who doesn't know the name of Dan Smith. With over $38 million in live winnings, he is considered one of the best tournament players alive.
Yet, until a couple of days ago, Smith had no WSOP bracelets to his name – a peculiar fact that was guaranteed to change sooner rather than later.
As of June 2022, Smith will no longer be 'the best player without a bracelet' as his triumph in the $25,000 Heads-Up Championship secured him the coveted trinket and over $500,000 in cash to be added to his ever-growing tally.
About fucking time, eh?!?? pic.twitter.com/I2qDyfOJnq

— Dan Smith (@DanSmithHolla) June 5, 2022
Smith navigated a very tough field in the event that attracted some of the best poker players out there, including the likes of Daniel Negreanu, a heads-up specialist Kevin Rabichow, and even Phil Ivey!
In the final match, Dan Smith had to square off against Christoph Vogelsang, and it was a grueling affair that saw the chip lead move back and forth.
In the end, though, poker gods favored Smith as, on the final hand, his A♥4♦ out-flopped Vogelsang's A♣10♣, securing the well-deserved first bracelet for the American.
Peters, Seiver, and Ruben Claim Their Number Four
Scott Seiver, David Peters, and Brad Ruben were also in the group of early bracelet winners this year. Interestingly enough, this was the bracelet number four for all three players.
Seiver secured his gold by capturing the title in a $2,500 freezeout, having outlasted 751 other participants and claiming $320,059 for his efforts.
Scott didn't try to hide his excitement in the winner's interview, saying that another Hold'em bracelet was something he had wanted for a long time. He also announced his intentions to play a lot this year and try his hand at capturing the Player of the Year title.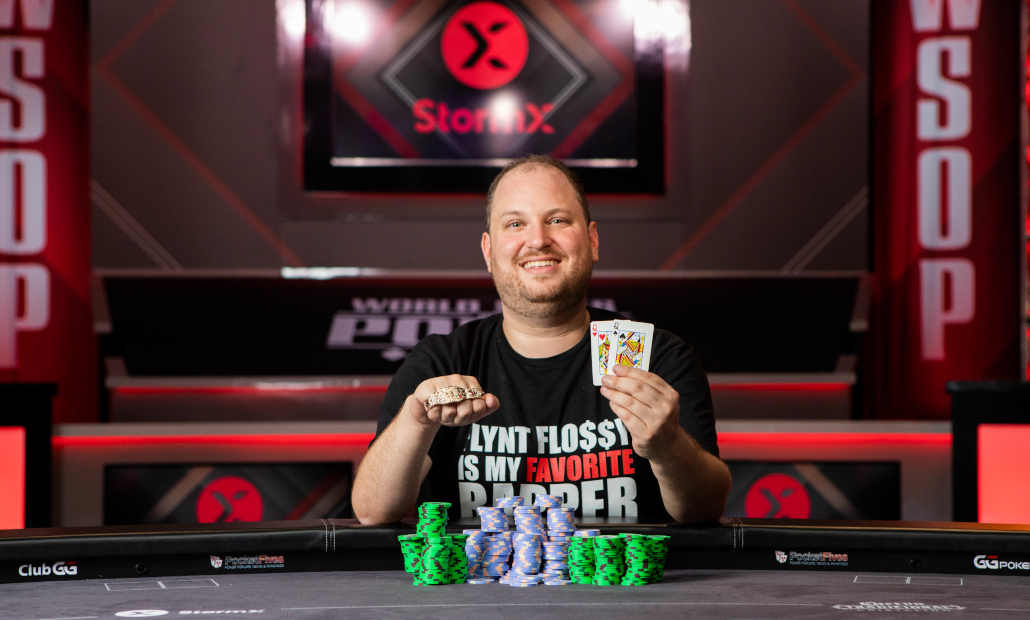 Player images courtesy of WSOP.com
David Peters secured his fourth bracelet in a much smaller but highly competitive field of the $25,000 High Roller Bounty event.
The final table featured the likes of Phil Ivey, Ali Imsirovic, Dario Sammartino, and Chance Kornuth, who ended up being the final obstacle Peters had to overcome on his way to the title.
On the final hand, David's K♥K♠ held against Kornuth's 8♠8♣ (although the flop wasn't without its challenges, giving Chance a real chance in the form of an open-ended straight draw).
For his win, Peters pocketed $1,166,810, announcing a great series ahead. Kornuth will have to find some solace in the $700K+ runner-up reward.
As for Brad Ruben, his fourth WSOP bracelet came from the win in the $1,500 Dealer's Choice event, which saw 430 total entries. Ruben also pocketed over $126,000 for his efforts.
Action Is Heating Up in Las Vegas
From everything we've seen this far, the 2022 WSOP could be one of the most exciting series to date. As things have finally come back to normal, we could definitely see some record-breaking fields across the board.
Phil Ivey also decided to join the mix this year, and it will be interesting to see how he performs. Considered by many the best poker player around, Phil will be looking to add at least one or two bracelets to his current count of 10.
Like every year, Daniel Negreanu has been publishing daily Vlogs to keep the fans updated with everything that's happening at the felt, and I can definitely recommend following his YouTube channel for your daily dose of the World Series of Poker Action.
The Player of the Year race is now officially underway as well, and it will be interesting to see if anyone can get a big head-start once a few more events are in the books.
On our side, we'll try to keep you updated with the most interesting developments as well to hopefully contribute to your overall experience watching and enjoying the world's greatest poker event!