Ebro Poker Room Review: A Hotspot Along the Gulf Coast
7 minutes
Last Updated: August 30, 2021
Located just 15 minutes away from the stunning beaches of the Emerald Coast, Ebro Greyhound Park and Poker Room offer poker players from the North West Florida area a little bit of heaven with its historic racing track and famous Ebro poker room.
First opening its doors all the way back in 1955, Ebro Greyhound Park is the only gaming facility in Washington County.
There's a scarcity in North Florida of places that offer multiple entertainment experiences, so if you are on a trip near the area, this will be one of the best options to play a few poker hands.
It is clear that Ebro cares about the local community, with it being one of the biggest employers in the area, and prides itself on doing business locally.
So, if you like to know where your rake goes, you can at least take some solace in the fact that dollars spent here stay in the local community far more often than with other mainstream establishments.
Ebro Poker Room Review
Even though there's no such thing as a sure bet, you can get as close to one in regard to having a stellar time at Ebro Poker Room.
Open all year round, you can test your skills at one of the 25 poker tables in their smoke free environment.
Amenities at the Ebro Poker Room include table-side food and beverage service, flat-screen TVs for you to follow what's happening out on the racetrack, and simulcast racing events just for good measure.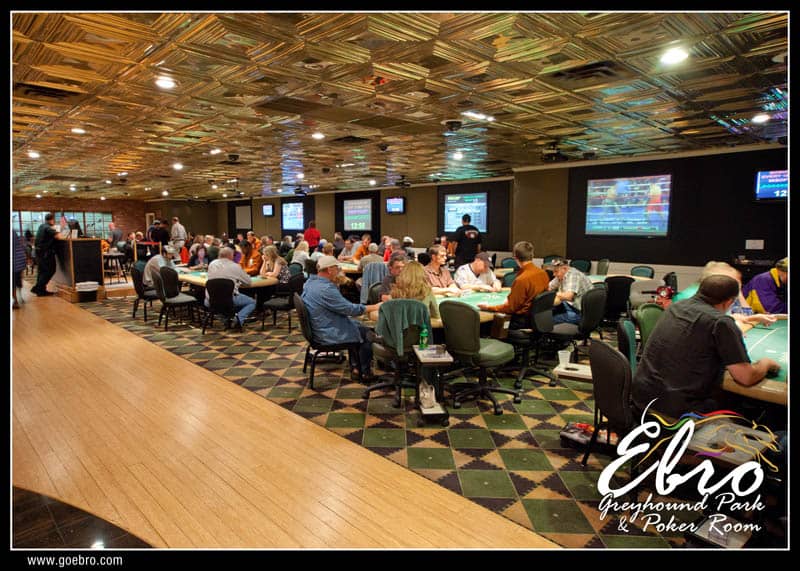 The poker room spreads various poker games, including some of your favorite live dealer poker games like Ultimate Texas Hold'em. Poker newbies can learn the game with free poker classes on offer as well as jackpots and giveaways, which there are plenty of.
Ebro Poker Room Cash Games
The poker cash games on offer at Ebro Poker Room do go above and beyond, with games running every hour of every day that the room is open.
Especially when a poker room has minimal competition nearby, it is easy to just offer players the bare minimum and hold the player pool over a barrel, but that's not the case here.
The most common games you will find running are:
Limit Texas Hold'em
Limit Omaha Hi-Lo
But if the demand is there, you can also jump into a host of mixed games like:
Five Card Omaha (Big O)
Seven Card Stud Eight or Better
Pineapple
Crazy Pineapple
As you can see, there is plenty of choices available to you, and you will no doubt find your favorite poker game.
Cash games, especially in the No-Limit Hold'em games play deep as well – like really deep. Some of the stakes available are:
$1/$3 No Limit Hold'em – Min Buy-in $100, Max $2,000
$2/$5 No Limit Hold'em – Min Buy-in $300, No Max
$5/$10 No Limit Hold'em – Min Buy-in $500, No Max
Now I don't know about you, but I don't think I've ever seen a $1/$3 game where you can buy in up to nearly 700 big blinds.
If that doesn't widen your eyes and get you licking your lips, are you even sure you like poker?
Ebro Poker Room Promotions
Promotions are aplenty at Ebro Poker Room and what immediately caught my attention was the three-tiered Bad Beat Jackpot, giving you even more chance of securing a tidy payday at the poker table.
Although it may not be the biggest Bad Bead Jackpot around (BBJ), you really can't fault them for their efforts to try and give all players a chance to scoop some prizes.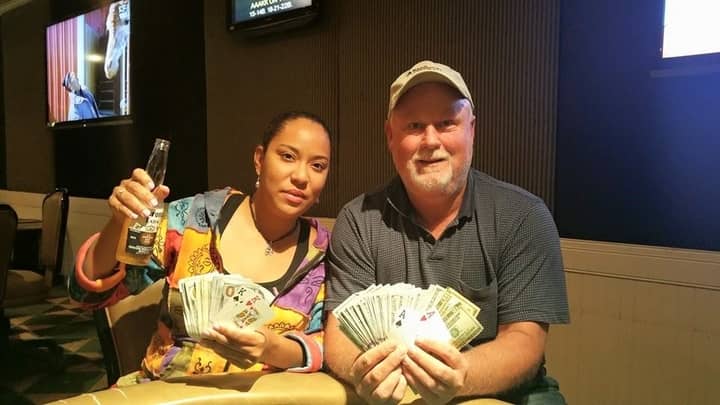 The three tiers are labeled as major, minor, and mini and payout $50,000, $10,000, and $2,000, respectively.
Each tier has its own minimum qualifying hand.
To secure the major BBJ you'll need to lose with quad tens or better, for the minor, quad twos, and to get a share of the mini BBJ, Aces full of Jacks.
Ebro poker room also runs plenty of bonus days, where you can see promotions like high hand every 15 minutes, which pay out a minimum of $100.
And, with COVID-19 ruining many plans, Ebro is giving back this festive period with their Santa's Stash promotion where there's a high hand every 30 minutes.
If you manage to win, you'll pick a present from under the tree which will reveal your prize, anywhere from $50 to $500.
You'll also regularly find double jackpot payout days as well on their poker casino games, so there are plenty of ways to win when playing at Ebro Poker Room.
Ebro Poker Room Tournaments
On a usual week, Ebro poker room offers three tournaments that vary in buy-ins from $60 to $220, so whether you are someone just starting out or looking to play some bigger events, you'll be able to find a tournament that suits you.
On Tuesdays, there's the low buy-in event of $60, which starts at 6 pm. Your entry fee will see you receive a starting stack of 7,500, blind levels are 20 minutes long, and this is an unlimited re-entry tournament.
On Wednesdays, you will find a $120 buy-in tournament that follows the same structure as above but does play deeper as you will have a starting stack of 10,000 chips.
Thursdays are the premier nights for Ebro tournament poker featuring a $220 tournament which guarantees $3,000 in prizes.
Again, the structure is the same as the previous two tournaments, but you'll start with 12,500 chips this time.
Now, I should warn you, the rake for these tournaments could be considered high. I'll breakdown how much of your buy-in goes to prizes and how much goes to the house.
Tuesday $60 – $42 to the prize pool, $15 to the house, and $3 jackpot contribution
Wednesday $120 – $95 to the prize pool, $20 to the house, and $5 jackpot contribution
Thursday $220 – $190 to the prize pool, $25 to the house, and $5 jackpot contribution
As these are unlimited entries, the house will make a pretty penny off you if you re-enter several times, so you might want to skip the lowest buy-in events.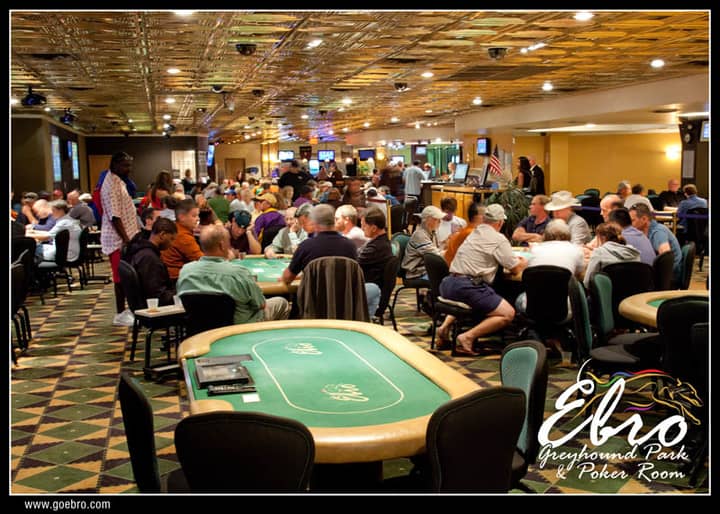 Ebro Poker Room also hosts the Emerald Coast Spring Classic, which has at least $200,000 in prize pools.
Most events that run are No Limit Hold'em, but you can find an event like Limit Omaha 8, too. The crown jewel is the Main Event, which is a $300 buy-in event with a $100,000 guaranteed prize pool!
Ebro Poker Room Staff
The customer service receives very high scores at the Ebro Poker Room, and their ethos is to take care of whatever needs you may have.
You receive a warm greeting on your arrival and are escorted to your table. Chip runners are quick, so you don't have to worry about missing hands if you bust.
Dealers are also very efficient and keep games running smoothly.
Ebro Poker Room Casino Poker Games
I suppose you could say the Ebro has some kind of quasi-casino type of a venue at the premises, but you won't find games like blackjack or roulette there.
However, the omission of these games is more than made up for if you have an affinity for casino poker games.
Not only can you get your poker fix playing the many cash game variants and tournaments, but you can play your favorite live dealer casino games such as:
Face-Up Pai Gow
Casino War
DJ Wild
As already mentioned, there are plenty of promotions for casino games, such as double jackpot days.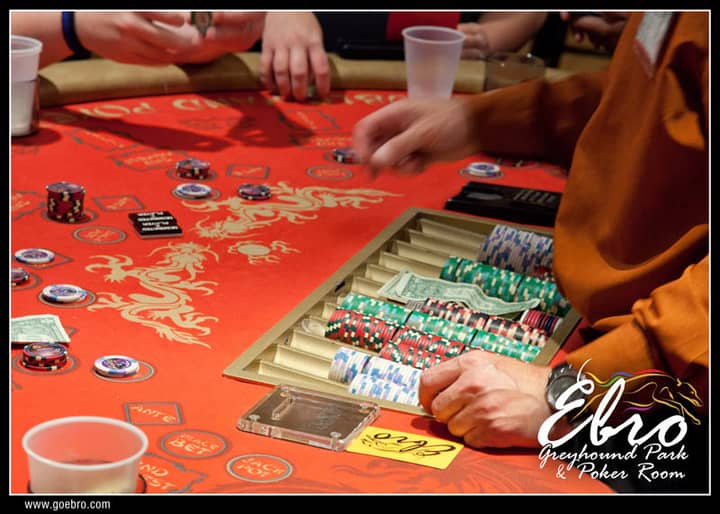 Also, the current jackpot for Ultimate Texas Hold'em is just over $90,000 at the time of writing this, so it may be worth a trip to the pit after making a profit at the cash game tables.
Parking at Ebro Greyhound & Poker Room
Nothing out of the ordinary here.
There's a self-parking lot on-site that is complimentary to use.
Ebro poker room parking situation is pretty solid all in all, and you should not have any problems finding where to part your car.
Ebro Greyhound Park & Poker Room – Things to Do
There are many poker-related things to do at Ebro, which is great, but of course, we can all experience some burnout after a tough session or two.
The good news is you can kick back, make a few wagers, and watch live greyhound racing as well as follow what's happening on nearby tracks with their simulcasts.
The track itself could do with some revitalization; it does look a bit dated but that shouldn't put you off.
There is a chance to grab a meal here too, but options are very limited and not anything to write home about.
Ebro Poker Room & Casino – Final Thoughts
There's a fair bit to admire about Ebro Greyhound Park & Poker Room. It serves its local community well and offers a wide variety of poker cash games.
Tournaments are not that special but will allow new players to give the game a try without putting a massive dent in their funds.
The room's big selling point is its proximity to the gorgeous coastline that the Gulf offers. Of course, you've got the racetrack too, which can offer a fun and pleasant evening away from the tables.
Overall it's a pretty decent place to play poker if you are a local or just passing by. I don't think it is a must-visit destination, but there are plenty of live card rooms around that could learn a lesson or two from Ebro Poker Room.