What Happened to High Stakes Poker Legends – Where Are Farha, Sheikhan, and Harman Today?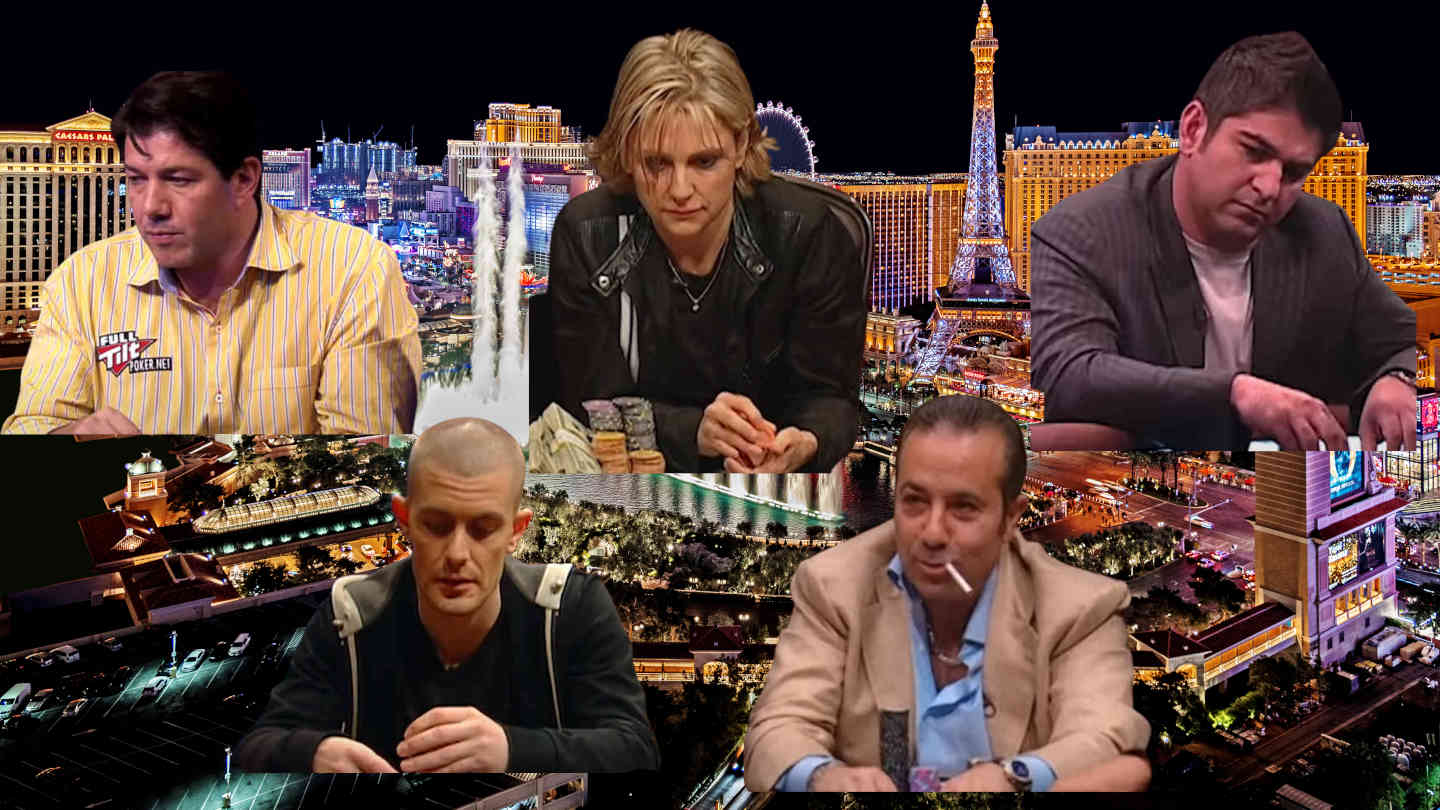 8 minutes
Last Updated: November 11, 2023
High Stakes Poker is not only one of the oldest, but also one of the most iconic poker shows that were ever recorded, and it's one of the few that is still going today after taking a six-year hiatus.
Since its premier in 2006, High Stakes Poker has seen dozens of poker players take to the green felt, with many of them returning to play on multiple seasons and entertain us for years.
Some players like Daniel Negreanu or Phil Hellmuth stood the test of time and continue to be a big part of the poker world to this day. However, many of those who played in the early seasons of High Stakes Poker have disappeared from the scene for one reason or another.
A couple of those old school poker players, namely poker's biggest legend Doyle Brunson and businessman Jerry Bus left us prematurely and left a void in the poker world that young players will be looking to fill for years to come.
Today, however, we take a look at what happened to some of the big name players who left their mark on early High Stakes Poker seasons that we don't hear that much about anymore and exactly why their names are no longer staples of the poker world.
#1 – Sammy Farha
When High Stakes Poker first aired back in 2006, there were some interesting characters in the cast, but few more interesting than Lebanese-born Ihsan "Sammy" Farha.
Born in 1959, Farha was part of that old-school world of gambling we have all seen in the gambling movies, and there was simply something about his personality that made poker players fall in love with him and High Stakes Poker as a result.
Sammy became a central part of the poker world in 2003, when he played heads up with none other than Chris Moneymaker in the WSOP Main Event that would change poker forever.
It was often said that the Poker Boom might have stalled another couple of years or more had Farha won that match.
An unlit cigar in his hand and always willing to gamble for stacks, Farha was easily the most electric character on Season 1 of High Stakes Poker, so it is a big shame that he no longer takes part in shows like these.
While Farha was never much of a tournament guy, the 2023 WSOP saw him play and even cash a few NLH and PLO events, showing the poker world Farha's still got it.
Farha spends most of his time down in Texas, playing poker in the various social poker clubs in the state, usually found at mid-stakes PLO tables.
Sammy was involved in an unfortunate incident in December 2021 that brought him back into the spotlight, when he was assaulted by a dealer at the "Legends Poker Room" in Houston.
The word on the streets has it that Farha has not been kind to the dealers over the years and this particular one decided to take things into his own hands, hitting and shoving the player before the situation was deescalated by the poker room staff.
It seems unlikely we will see Sammy on any big poker shows anytime soon, but there is always hope that such a bigger-than-life character might make a return on a future season of HSP or another poker show.
#2 – Shawn Sheikhan
Shahram Shawn Sheikhan is another big name that made the early seasons of High Stakes Poker what they were, and, much like Sammy, it was more his personality than his poker skills that made him stand out.
Sheiky was another interesting character, always willing to talk back to anyone who would bad-mouth him, and this was especially the case with Mike "The Mouth" Mattusow, with whom Sheikhan had a big verbal feud going on.
Sheikan and Mattusow extended their feud beyond HSP, as the two got into it at the WSOP as well, and it was this kind of drama that marked those early years of Poker Boom.
When it comes to poker, Sheiky was spotted playing on occasion, while also gambling in the Las Vegas pits from time to time, but none of this was the cause of his downfall.
In 2022, Sheiky pled guilty to charges of conspiracy to distribute marijuana through his California businesses. Despite his lawyers' best attempts, Sheikhan was just recently sentenced to four years in prison, as their request for probation failed.
Shawn is required to surrender to the US Marshal Service by the first day of 2024, and will spend 48 months in prison, which means we definitely won't be seeing him on any poker shows in the near future.
#3 – Jennifer Harman
While today's poker world is seeing a growing number of women at the felt, back in the day it used to be rare for ladies to play, let alone excel at the game.
Jennifer Harman was one of the few notable exceptions, and her appearances in the early seasons of the High Stakes Poker were one of the best things about the show.
Even back in 2006, Jennifer was already a major part of the poker world, having played and won in some of the biggest poker games in the world.
Jen was a regular in poker games with the likes of Doyle Brunson, David Benyamine, and Gus Hansen, all of whom are today considered as legends of the game.
While Harman no longer makes appearances on poker TV shows, she is still very active in the poker world and she continues to play cash games on the regular and even throw an occasional WSOP or PokerGO Tour event in for good measure.
Jen is quite active on the social media as well, and you can see her often post updates about her family and the poker world via her Twitter page, which is the best gateway into her world these days.
#4 – David Benyamine
Born in Paris in 1972, David Benyamine is another member of poker's "old guard" who marked the early seasons of High Stakes Poker and made for some great TV.
Benyamine was part of the show for Seasons 3 through 6, and in that time he managed to play some of the biggest pots in TV poker of that time, including a massive million dollar pot against billionaire philanthropist Guy Laliberte.
Benyamine was actually never much of a No Limit Hold'em guy away from HSP, and when Full Tilt Poker went down and his sponsorship deal with it, he more or less stopped playing this particular variety of poker.
However, David still plies his trade as a professional poker player and continues to play both cash games and tournaments in various mixed games, where he can still hold his own against just about anyone.
Whether Benyamine will be making anymore TV appearances remains to be seen, but it appears that much like late Doyle Brunson, Benyamine is a lifer who will continue playing the game until his final day.
#5 – Gus Hansen
Another foreign player who spent most of his career playing poker in the US, Gus "The Great Dane" Hansen played HSP Seasons 2 through 6 and was one of the wildest players of the era.
Hansen discovered aggression in poker before most other players, which allowed him to dominate the tournament circuit in the early Poker Boom days, and was one of the more entertaining players on the show.
His insanely aggressive approach to poker saw Gus go up and down millions over his career, and he was noted as the biggest loser in the history of Full Tilt Poker.
Gus played some iconic pots on HSP, including the one in which he made quads over full house against Daniel Negreanu, one of the more notable moments on the show.
If you are wondering where Gus Hansen is today, simply walk down to Aria a few times a year, and you are likely to see him playing in the biggest mixed games against some of the best players in the world.
Gus rarely plays No Limit Texas Hold'em these days, but his appetite for gambling and high stakes action has not diminished.
He regularly posts updates on his Instagram page with hundreds of thousands in chips sitting on the table in front of him, demonstrating that Gus Hansen is definitely here to stay.
More Notable Mentions
The list of players that made High Stakes Poker into the phenomenon it became is quite a long one, but many of those players actually continue to be integral parts of the poker world.
Phil Hellmuth and Daniel Negreanu are perhaps the best examples of this, as they both remain two of the greatest ambassadors the game of poker has ever had.
Younger guys like Tom Dwan and Andrew Robl had to wait for their chance to play on HSP until season 5 and 6, and they have been crushing it ever since.
Both Robl and Dwan have been making somewhat regular appearances on TV poker shows recently, and still dominating in the same fashion they did a decade ago.
Patrik Antonius and Phil Ivey, both of whom were also notable parts of HSP history, also continue to be some of the biggest winners in poker these days, both regularly posting notable results in both cash game and tournament circuits.
Other notables like Freddy Deeb, Johnny Chan, or Chris Ferguson have all stepped away from poker for the most part, and their names don't come up in the poker circles too much anymore.
With each passing season, the most legendary poker show of all time continues to build its brand and history, and it will be exciting to see where today's HSP regulars end up in another five or ten years from today.