Poker Online – How to Play a Successful Game?
Do you love and enjoy the game of poker but don't have a poker room nearby, and there are no home poker games anywhere nearby? In that case, online poker is probably the best option for you.
Yes, there are a variety of poker games that you can play online and enjoy your playtime. In addition, free online poker games are also turning the table around and serving a vast range of poker lovers around the globe.
But, if you have limited playing experience or you've only seen the game played on TV, and it caught your attention, you might have many questions. You might be wondering what poker is all about and how you can play a successful game when just starting out.
All these questions are common when you are a beginner, and it is essential to address them before you sit down to play. This article brings answers to some of the most common queries players have about the game and should help you get started in no time.
What Is Online Poker?
Online poker is very similar to the live game. The biggest difference is that instead of physical cards and poker chips, the game is played in a virtual setting. The outcome of every hand is determined using Random Number Generator, a piece of software that ensures games are completely fair.
In the simplest of terms,  when you play poker on the internet, this is called online poker. You may find different sites that allow you to play various poker games and test your luck and skills simultaneously. Due to its wide popularity and demand among the players, online poker games lovers are increasing daily.
The game is played worldwide, and you can have the best online poker games in free and paid modes.
Free poker games are a great option if you are just starting out and have no experience whatsoever. These will help you with a successful transition to real money games when the time comes. Plus, many rooms also feature freeroll tournaments, which are free to enter, but often pay real money prizes or tickets for tournaments with cash prizes.
What Is the Difference Between Live and Online Poker?
If you have some experience with live poker but are looking to transition into the online arena for whatever reason, there are some things you should know before you make a move. Although it is the same game, there are certain differences to be aware of.
Talking about poker online, it is faster and less risky compared to live games. You can play with different players from all across the globe and have access to a much bigger variety of stakes. This makes it easier to start if you're on a limited budget.
The main drawback is that you do not know your opponents, which makes playing against them more difficult. You can't see the face of your opponent to analyze what they might be thinking and what their next move might be.
Perhaps the biggest appeal of online poker games is that you can easily play from anywhere. It gives you a great degree of freedom and allows you to enjoy your sessions when and how you see fit. This is something that live poker just can't match.
Things to Know While Playing Poker Online
Playing poker on the internet isn't hard. You can play from home or using your mobile device, and it doesn't take long to get started. As long as you have internet access, you'll be able to play poker in one of many available rooms.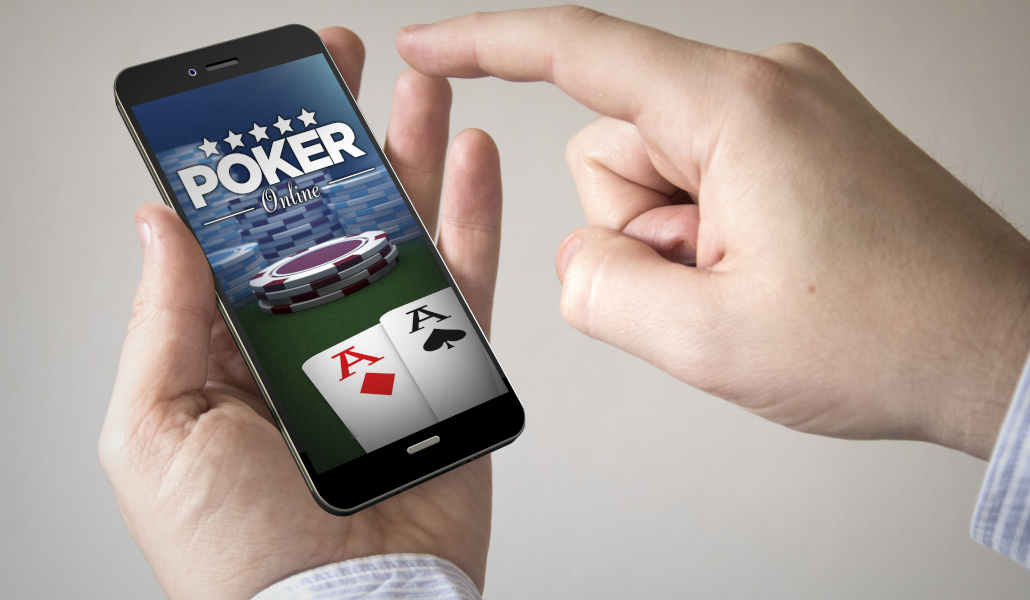 An important thing to mention is that you don't need a particularly powerful device, either. Most poker operators have optimized their platforms, so they work well on all sorts of systems, including many older ones. Of course, if you're planning on using additional poker software to collect information on your opponents, you'll probably need a stronger computer to keep everything running smoothly.
Do I Need Money to Play Online Poker?
If you're serious about poker, you'll probably want to play real money games. That said, you can always start at free tables to get your foundations. It won't cost you a single cent as you can use "play money" to access these tables and play the game.
As mentioned earlier, you can also get involved with some freeroll tournaments and potentially win real money without any investment on your part.
The reality is, though, you'll probably want to make at least a small deposit to kick-start your journey. Luckily, most poker sites offer a great range of stakes, so you can follow proper bankroll management even if you deposit just $20 or $30.
There are online tournaments with buy-ins of $0.50 or even lower, and cash games start at $0.01/0.02, so you can climb your way up the stakes at your own pace.
Of course, it will take time to build your bankroll this way. But, if you want to be successful at online poker, you need to learn to be patient and methodical in your approach to the game. Build your way up, read useful poker tips, and become a better player as you go. In the long run, all these efforts will pay off, and you'll get to where you want to be!