Most Popular Poker Clubs Online – What You Need to Know
Most Popular Poker Clubs Online – What You Need to Know
Images from shutterstock.com
Online poker has been around for about two decades now, but things have drastically changed over that time in terms of how we play online poker with friends and what the best places to play are.
Back in the early days, all online poker sites used to be full of fishy players, and getting amazing bonuses, and rakeback deals was easy, with so many players coming in and the sites all competing for traffic.
Over the years, the online poker players' pool has been drained. Fewer people play it today than used to be the case some years ago. Add to that the exclusion of US poker players from the global pool, and it is easy to understand why things have taken a turn for the worse.
Online poker sites like PokerStars or Party Poker are not what they used to be. New poker rooms like GGPoker have been picking up pace, which is a good thing. But even there, the games are tough to beat, with many serious poker players at the tables.
Fortunately for those looking to make a living at poker, the new trend of online poker clubs has been sweeping the world. The clubs in question are semi-private games with plenty of fish!
If you have not yet been introduced to poker clubs and are looking to get involved in these fishy games, keep reading and find out just how they work and where you can find them.
What are Online Poker Clubs?
Online poker clubs are offered through various online poker mobile apps such as PPPoker, PokerBros, UPoker, and others.
These online poker apps were created to get around the various issues that players often face, such as country or deposit restrictions.
To play in online poker clubs, players need to be invited or join using special codes. These can only be received from other members of the club. Then, the club admins must accept you into the club.
Making deposits into your online poker club wallet can be quite easy. Making a transfer to the club's agent thorough PayPal, Skrill, or Bitcoin transfer will usually get the money deposited into your wallet within minutes.
Technically, you are not really playing for real money and only receive chips in your account, but it can be exchanged in real cash later on. This approach is used to avoid licensing restrictions and offer access to all players, but it comes with more risks.
Luckily, there are sites that will help you find good deals in these clubs, so check it out instead of randomly joining games you don't know.
Are Online Poker Clubs Safe?
With the games in online poker clubs organized the way they are, it is natural for you to be concerned about their security when playing there.
However, I can tell you that if you are playing in one of the top clubs on apps like PPPoker or PokerBros, your money will be as safe as with regular poker sites.
These clubs thrive from players coming in and making deposits, so they have no problem paying out the winners either. Keep in mind that some smaller clubs may not be that way and that there may be players who are playing in such clubs without paying upfront.
The best thing you can do is find a reliable club and agent to make deposits through and never keep too much money in your online wallet. This way, you are never risking too much, and you get to play against some of the worst players on the planet.
Collusion and Cheating Concerns
When playing online poker, the possibility of some players colluding and working together to take your money is always real. Private poker clubs are no exception.
There will always be players looking to make easy money by cheating in one way or another, sharing cards and doing other unethical things to get an edge.
Big sites have security teams working behind the scenes to help reduce these things. Luckily, serious poker apps like the ones mentioned here aren't lacking in that department, either.
These apps also have the teams of people who keep an eye on the action and do their best to prevent cheating. That said, you should always stay alert and careful of any strange situations, which applies to playing poker in general, whether you do it on a major site, an app, or even in a live setting (just remember the Mike Postle cheating scandal).
Why Play in a Poker Club?
Online poker clubs offer a host of benefits compared to traditional poker sites. For one, the player pools in these clubs tend to be much softer, with most players playing a "home game" style of poker that does not really resemble serious poker play.
This alone is reason enough to give these clubs a shot if you are a serious poker player. However, that is not all! Unlike most poker sites that no longer offer attractive rakeback deals, online poker clubs often give up to 60% rakeback to their players.
Online poker clubs are also played almost exclusively on mobile devices exclusively, which means there will be fewer grinders playing dozens of tables and killing action on them all.
The slight downside of online poker apps like these is that the quality of the actual software may be a bit lower than apps like PokerStars and GG Poker, as the potential security risks exist when playing on such apps.
Still, online poker apps offer plenty of advantages with only a slight risk that you must be willing to take, which is why I highly recommend giving them a shot.
Let's take a look at the top three poker apps you should check out if you want to join an attractive online poker club:
PPPoker
PPPoker is a social poker app, which means there are no direct monetary transactions related to it. Yet, players can play real money games with the help of the agents of the respective clubs they join.
PPPoker was originally designed for the Asian market and gradually spread across the world, as players in many countries expressed interest in the concept.
On this poker app, you will get to join poker clubs, which are basically big home games organized by individuals who host the club. These individuals can choose to provide real money games by paying you for coins you win and transacting coins into your accounts when you pay them for it.
The PPPoker app is of high quality, and it offers various modern features that many poker sites don't have. You will be able to play multiple tables at the same time, see essential player stats, and even chop the pot according to all-in EV.
Playing in PPPoker clubs is highly attractive as the app is notorious for the great number of bad poker players and Asian gamblers who are really just looking to gamble it up.
PokerBros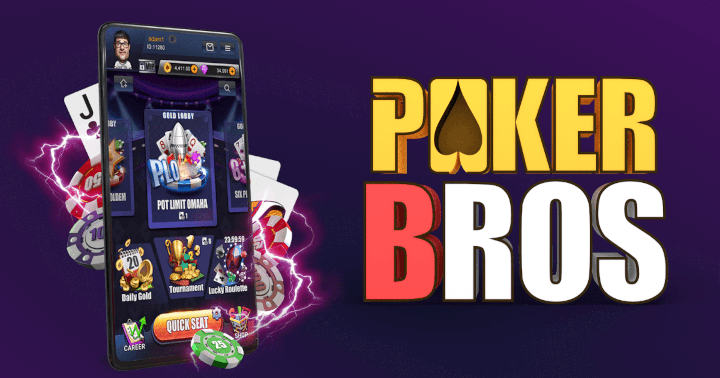 PokerBros is one of the hottest social mobile poker apps today, offering games through a variety of social clubs that actually allow real money play.
Real money games are organized in the same way as PPPoker, with club agents guaranteeing all payouts and making sure your deposits are processed fast.
The PokerBros poker clubs are united into large unions, which allow players from multiple clubs to play tournaments and cash games together.
With the unions system, PokerBros allows thousands of players to be in the same player pool, which leads to amazing games around the clock.
PokerBros also offers a great poker app that is easy to play on and navigate for all purposes. Players at PokerBros are generally on a low level, and thousands of fish are waiting to be skinned even at the high-stakes tables.
UPoker
Like the other poker apps I mentioned, UPoker is mainly focused on the Asian market. However, over time, it has become quite available in other parts of the world as well, with many European and American clubs emerging.
Various international and Asian player unions will allow you to play against very weak players across all stakes and game types, with tournaments and cash games in games like Texas Hold'em and Pot-Limit Omaha available at all times.
The great advantages of UPoker include the fact it offers Windows and iOS clients, meaning you will be able to play on your PC as well as your mobile device.
Rakeback deals on UPoker aver very common and usually quite lucrative. The high-quality software allows all-in insurance, multiple runs in all-in situations, and other modern features and guarantees a great player experience.
If you want to play on UPoker, you will need to join one of the poker clubs and make your deposits with the club's agents to get started.
ClubGG
Another social poker app that mainly advertises social poker, ClubGG, is yet another emerging spot for those looking to organize home games over the internet.
To play for real money on ClubGG, you will need to get into one of the poker clubs hosted on it and make a deposit through an agent.
ClubGG is not yet as popular as the other competitors I have listed, but it is one of the upcoming apps for online club poker.
The app itself is premium and possibly offers the best experience of all the social poker apps I listed here. For that reason, joining ClubGG may be a good idea if you are looking to enjoy some soft action for real cash on a high-quality poker app.