Rivers Casino Poker Room Review: The Largest Poker Room in Pittsburgh
Formerly known as the Sugarhouse Casino, the Rivers Casino Poker Room has become quite the spot for poker in the North West.
Located in Pittsburgh, this 30-table poker room offers both poker cash games and tournament players the chance to win big.
Open 24/7, whether you're a day-shift worker, night-shift worker, or general insomniac, as long as you've got an appetite for poker, Rivers can satisfy that hunger.
Rivers Casino Poker Room Review
Rivers Casino is in close proximity to the city center, which is always good news. This brings in more foot traffic to the poker room and helps dilute the room from being a reg-central.
Rivers Casino poker room is also signed up to the Bravo Poker app, so you can find out all you need to know on your mobile phone rather than taking a chance of just showing up and hoping to get a seat in a game.
Automatic shufflers keep the game in a good flow, and with plenty of promotions and jackpots running, there's little surprise as to why Rivers Casino poker room has become one of the best places to play poker in the region.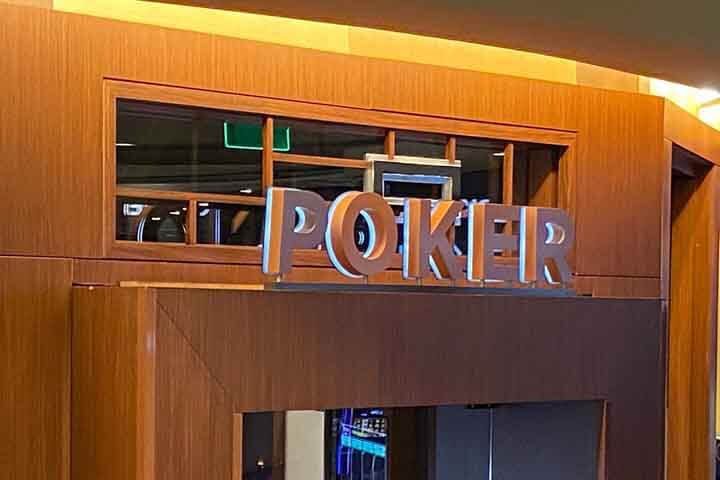 All tables are equipped with USB chargers, so for you renegades who can leave the house with 13% battery without a care in the world, the only thing you need to worry about is making sure you get your chip stack in good.
Rivers Casino Poker Room Cash Games
Cash games are the bread and butter of the Rivers Casino poker room. Regardless of the time of day, there'll definitely be a game running that you can hop into.
If you are someone who tackles the high stakes games of the Bellagio, for example, it's unlikely that the games here will get your heart racing.
However, if you're looking to start your poker journey or are a seasoned recreational player, Rivers Casino poker room offers more than enough to keep you interested.
As expected, the most popular game is No Limit Hold'em, but you could also find yourself playing Limit Hold'em, Pot Limit Omaha, and Limit Omaha 8 or better.
The games that you'll most likely find running are:
No Limit Hold'em
$1/$2 – Min buy-in $100, max buy-in $300
$1/$3 – Min buy-in $100, max buy-in $500
$2/$5 – Min buy-in $200, max buy-in $1,000
Other poker games that sometimes run
$4/$8 Limit Texas Hold'Em
$1/$3

Pot Limit Omaha

$5/$5 Pot Limit Omaha
$5/$10 Limit Omaha 8-or-Better
$5/$10 No Limit Texas Hold'Em
$10/$20 No Limit Texas Hold'Em
It would be fair to critique the Rivers Casino poker room for the lack of variety of games on offer.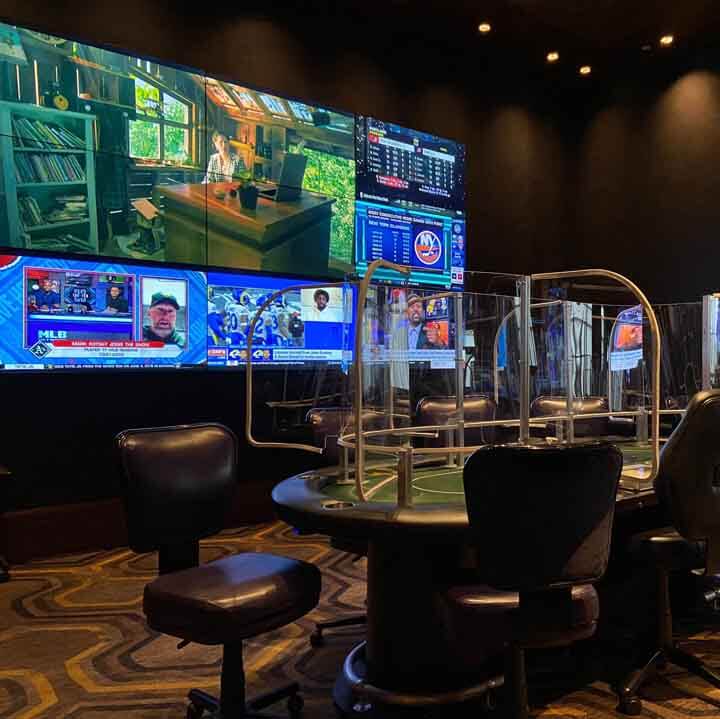 However, you have to remember that most of those who play poker only know how to play Texas Hold'em, so having options like stud or an even more obscure game like Badugi is not very high on the priorities list.
What you can be happy about, though, is that that these games play deep, and there are no foolish max-bet laws to deal with like in some US states.
The deeper the cash game, the more chance of scoring big wins, and at these low limits, being able to scoop a $1,000 in a single pot playing $1/$3 is nothing to roll your eyes at.
Rivers Casino Poker Room Promotions
The Rivers Casino keeps players coming back for more poker action with their nice range of promos.
There are daily high poker hand promotions, which could net you anywhere from $200 to $500 depending on what day you play.
To top that off, you've got the chance to be a part of the big bad beat jackpot! Should you be (un)fortunate enough to lose with quad sixes or better, with both your and your opponent's hole cards playing, you'll get the lion's share of the payout.
If the bad beat jackpot reaches the $100,000 threshold, you'll only need quad twos beaten to take it down.
Although not as exciting as the promos above, players can also earn $1 an hour in comps. You can use these comps to pay for food, drinks, and the like at the casino.
Rake
As most of the games tend to be either $1/$2 or $2/$5, you should expect the rake to be 10% and capped at $5.
However, with the bad beat jackpot and regular high-hand promotions, don't be surprised if you see an extra dollar or two taken out of the pot to cover for these promos.
Rivers Casino Poker Room Tournaments
Poker tournaments are a bit of an afterthought at Rivers Casino, mainly due to the fact that cash games are the preferred option.
However, for those who enjoy tournaments, you'll still find 3-4 events running each week with buy-ins from $60 to $150.
Rivers Casino, on occasion, runs higher buy-in events such as the Big Rush series, which has a prize pool of at least $100,000. This event has multiple opportunities to satellite into as well as multiple Day-1 flights.
A normal weekly poker tournament schedule at Rivers Casino poker room looks like this:
Monday (7:15pm) – Buy-in $125, 20,000 starting stack and $4k guaranteed
Wednesday (7:15pm) – Buy-in $125, 20,000 starting stack and $5k guaranteed
Saturday (11:15am) – Buy-in $65, 12,000 starting stack and no guarantee
Sunday (11:15am) – Buy-in $150, 25,000 starting stack and $5k guaranteed
Despite not having the most exciting tournament schedule, poker players can get a slice of some decent prize pools. And with three of four tournaments offering guarantees, there's definitely an appetite for MTT's, albeit a small one.
Parking at Rivers Casino
Free parking is always a plus when venturing out to a casino, but a complimentary valet service as well – wow, you've hit the jackpot.
Luckily for you, Rivers Casino offers guests exactly that. You've even got the choice of covered or lot-based parking.
So, if you're like me, the thought of these freebies you can take advantage of will make you feel all warm and fuzzy inside.
Rivers Casino – Slots & Table Games
Rivers Casino is fully licensed, meaning you can play both slots and table games as well as make a wager at their luxury sportsbook.
Slots & Sportsbook
If you're a fan of classic slot machines or prefer the more modern take on slot gaming, then you'll be in your element.
Regardless of whether you prefer to play on the conservative side at the penny slots or go all out on high roller machines, you're covered. There's something for everyone at Rivers Casino.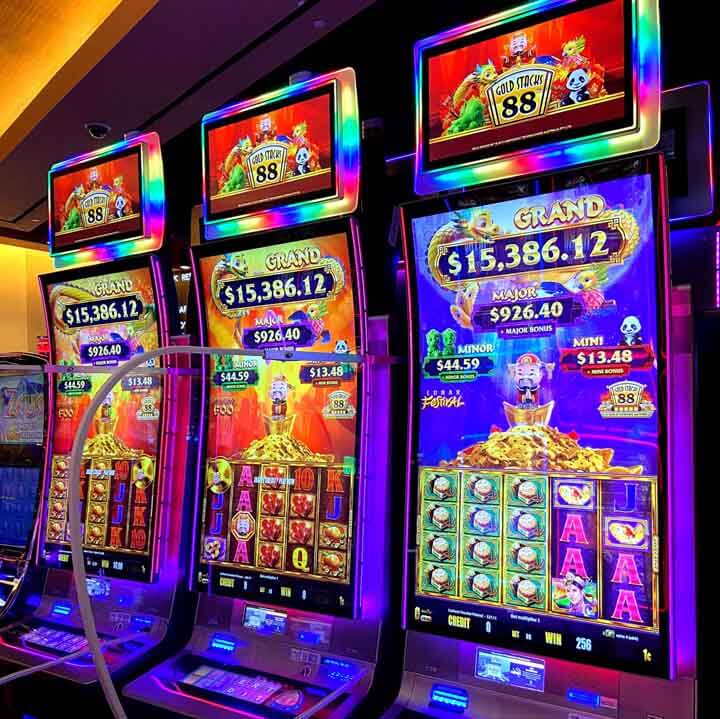 The 5,700 square-feet sportsbook is a brand new, state-of-the-art facility. Players can choose from plenty of seats to lounge or sit at the bar with video poker to keep you occupied as you eagerly wait for your bet to come in.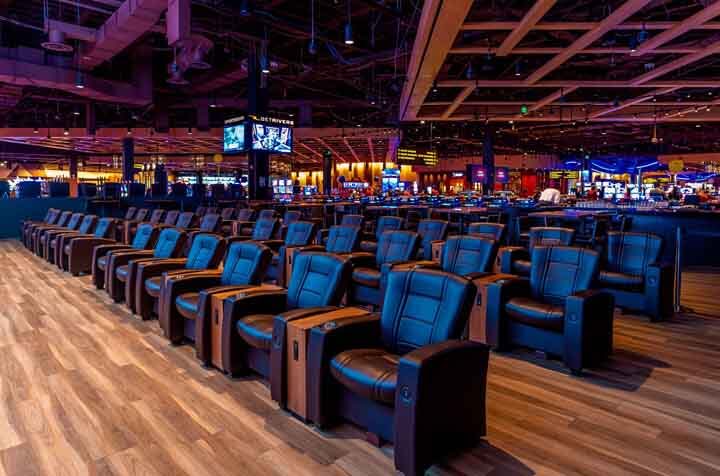 The viewing area is championed by a massive HD video wall that can display more than a dozen games at one time. Coupled with excellent cocktail service as well, this is the sportsbook of your dreams.
Table Games
Self-proclaimed as Philadelphia's go-to gaming destination, it is hard to argue against the claim as those who enjoy casino table games will be pretty happy to see the extensive list of options you can enjoy at Rivers Casino. If you're going to hit the pit, expect to see:
Craps
Roulette
Spanish 21
High Card Flush
Pai Gow Tiles
Mississippi Stud Poker
Heads Up Hold'em
Baccarat
Asia Poker
4 Card Poker
Whatever your game of choice might be, Rivers Casino will likely meet and exceed your expectations with non-stop action and a range of popular options to choose from.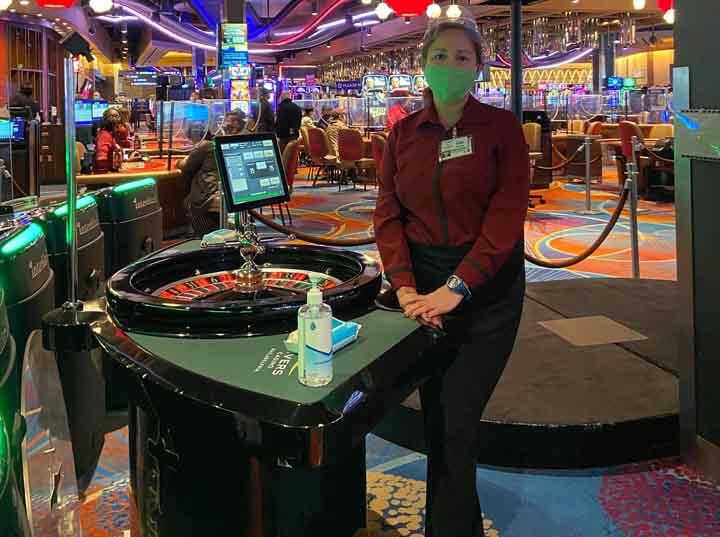 Rivers Casino – What to Expect and Things to Do
When it comes to non-gambling-related activities, you'll be in short supply for the most part. Other than a handful of dining and drinking options, the only thing you're really left with is live entertainment shows.
Rivers Casino is another venue that doesn't have an attached hotel, either, which is a bit of a shame.
Of course, there are nearby options for accommodation, but to have the option to stay and play at Rivers Casino would be nice. Having the hotel as well would help the chances of Rivers Casino hosting bigger and better tournament series, something I'm sure many in the North East would look favorably on.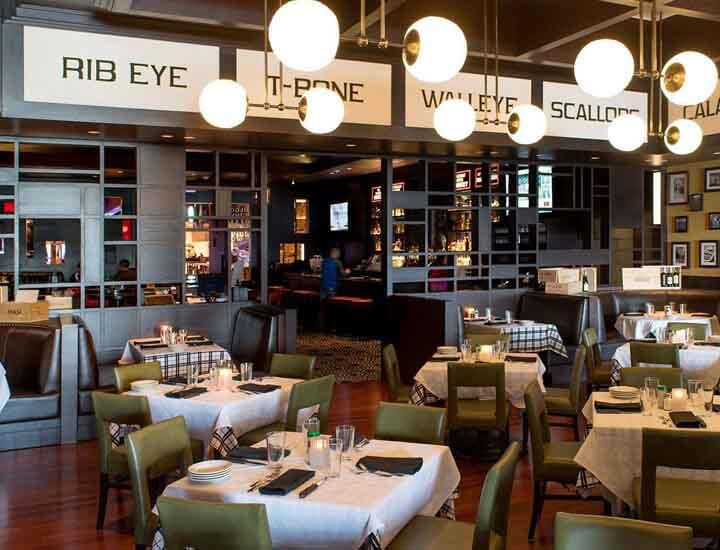 Rivers Casino – Keeping You Safe Against Covid-19
During these trying and unprecedented times, Rivers Casino is doing all it can to keep players and team members safe.
With mandatory mask-wearing, social distancing, plexiglass barriers, and increased sanitation, players can feel at ease when at Rivers Casino.
All guests will be screened with contactless temperature checks. Anyone with a temperature at or above 100.4 degrees won't be allowed to enter the premises.
Final Thoughts on Rivers Poker Room and Casino
As a stand-alone casino and poker room, Rivers Casino is an absolutely fine place to play poker.
There's a game for everyone, be it at the cash tables or in one of their weekly tournaments. Some players will be disappointed to see a lack of poker variants on offer, but with deep cash games running around the clock, those feelings will quickly disappear.
Promotions and the bad beat jackpot help maintain the thrill of the game and provide the feeling that any hand you get dealt could be a big winner.
The casino offers pit players and slot machine aficionados a chance to spend some time away from the poker tables.
However, other than a few okay places to eat or watch a live show, Rivers Casino falls short in offering poker players the full package, which is something they will hopefully improve on in the future.