Daytona Beach Poker Room Review: A Plaza for Entertainment
2 minutes
Last Updated: August 30, 2021
There are three pleasures that I like to indulge in – sun, sea, and poker, and the Daytona Poker Room gives players a chance to experience all three.
Situated on the beautiful northern Florida coastline, poker players can spend a day in the sun and then retreat into the Daytona Beach Kennel Club and Card Room.
With an array of poker cash games and Texas Hold'em tournaments on offer, some of the best games in the area can be found here.
Daytona Poker Room Review
Daytona Beach Poker Room hosts a grand total of 55 tables, making it one of the biggest in the state. A nice cherry on top is that you only need to be 18 to play here, giving young and aspiring poker players a chance to cut their teeth on felt early.
In usual times the room is open from 10 am to 4 am during the week and around the clock from Friday to Sunday, but due to Covid, current opening hours are reduced slightly.
From Monday to Thursday, you can play poker from 10 am to 2 am, and then on weekends, you can play until 4 am.
In terms of amenities, the Daytona Beach Poker Room offers your standard array of options, but there's no real feature that makes it stand out from the crowd.
Players can experience tableside dining as well as routine cocktail service. Massages are available for a small fee if you're feeling the need to loosen up a bit, and of course, there's Wi-Fi and a few televisions dotted around. Some of you will be relieved to hear that this is a non-smoking poker room.
If you're looking to get a few errands done before sitting down to play, players can see what games are running and what waitlists look like without having to call ahead as the room is listed on the Bravo Poker Management App.
Daytona Beach Poker Room Cash Games
As you can imagine, the variety of games in these poker rooms outside of Vegas is often limited. Daytona Beach isn't Caesars Palace, but you'll still find a good number of options.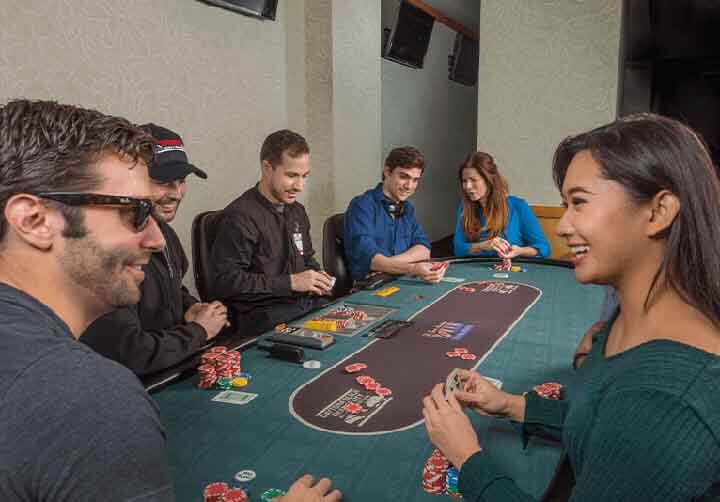 The room's main game, as expected, is No Limit Hold'em but players can also hop into a Limit Hold'em or Pot Limit Omaha game too.
Poker cash games you can expect to find running regularly include:
$1/$2 No Limit Hold'em – Buy-in: $40 to $200
$2/$5 No Limit Hold'em – Buy-in: $200 to $800
$2/$4 Limit Hold'em – Min buy-in $40
The games you can expect to see run occasionally, usually on weekends, are:
5/5 No Limit Holdem – Buy-in: No min or max Run
5/10 No Limit Holdem – Buy-in: $300 to $2,000
5/5 Pot Limit Omaha Hi – Buy-in: No min or max
2/5 Pot Limit Omaha 8/b – Buy-in: $200 to $500
1/2 Limit Holdem – Buy-in: Min $20
5/10 Limit Omaha 8/b – Buy-in: Min $100
Regarding the player pool, reviews vary. Some players note that the games here are easier than those in the casinos, but others also say that the room has solid players who implement a tight and aggressive strategy.
At the end of the day, that famous line from Rounders stills rings true – 'If you can't spot the sucker at the table, then you are the sucker.'
The Daytona Beach Poker Room dealers score high amongst those who spend a lot of their time here, often complimenting them for being friendly, polite, and professional.
Games run smoothly and the culture of the poker room is largely positive, which is always a plus if you are a new poker player looking to find your main game.
Daytona Poker Room Promotions
Other than just running efficient poker games, Daytona Beach keeps players coming back for more poker action with their promotions.
The high poker hand promotions are regular and currently in place at the time of writing (Feb 2021). If you're lucky enough to hit the hand, you can expect to win anywhere from $200 to $500, depending on what day you're playing.
As always, the best way to find what incentives the poker room is running is to check out their promotions page.
Other than the aforementioned promos, poker players can earn comps by joining the Lucky North Club. With this reward scheme, you earn and accumulate points which can then be redeemed at either Daytona Beach or Orange City.
When playing poker or casino poker games, you can expect to be rewarded with:
Tournament Games: 10 points per hour
Limit Games: 40 points per hour
No Limit Games: 80 points per hour
Vegas Style Games: 200 points per hour
Unfortunately, the room doesn't run a bad beat jackpot, but that has its positives as well since no extra money is removed from the pot to fund the promo.
Daytona Beach Poker Room Tournaments
Poker Tournament enthusiasts will not be disappointed with the variety of daily tournaments that take place at Daytona Beach.
The room really has some of the best tournament offerings in the area. Buy-ins start at $75, allowing new players to get in on the action, and there are a few tournaments a month that play bigger, with $220 – $300 buy-ins.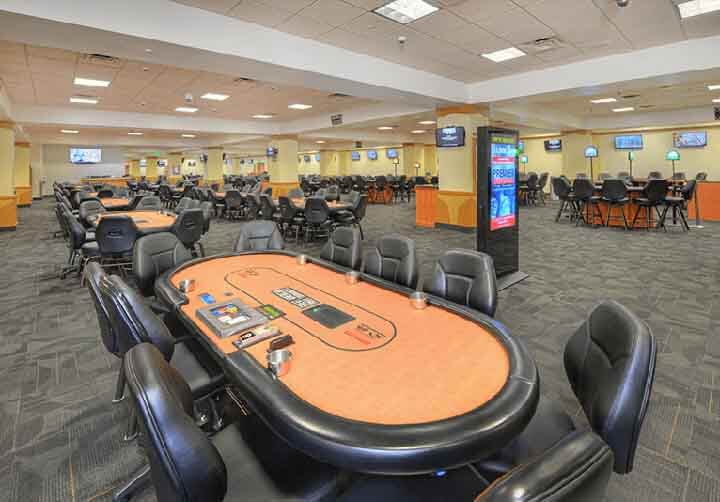 A typical tournament week at the Daytona Poker Room looks something like this:
Monday & Tuesday
1:10 pm: $75 buy-in, 12,000 starting stack and no guarantee
Wednesday
3:10 pm: $50 buy-in, 6,000 starting stack and no guarantee
Thursday
3:10 pm: $125 buy-in, 15,000 starting stack and no guarantee
Friday
6:10 pm: $155 buy-in, 25,000 starting stack and no guarantee
Saturday
6:10 pm: $155 buy-in, 30,000 starting stack and no guarantee
There's also a host of satellite tournaments that play here, too, giving players the chance to enter the WSOP Main Event and other prestigious events at a fraction of the cost.
If this is something that piques your interest, then the best way to find out if you can have your own Moneymaker-esque moment is to check their events page.
Parking at Daytona Beach
There's really not too much to say about Daytona Poker Room parking except that there's plenty of space and it is free. If you're someone who enjoys VIP treatment, you're out of luck as no valet services are available at the property.
Daytona Beach Casino Games
The Daytona Poker Room is not the place to be if you love slots, but those who enjoy a trip to the pit after a poker session can try their luck with several Vegas-style poker games.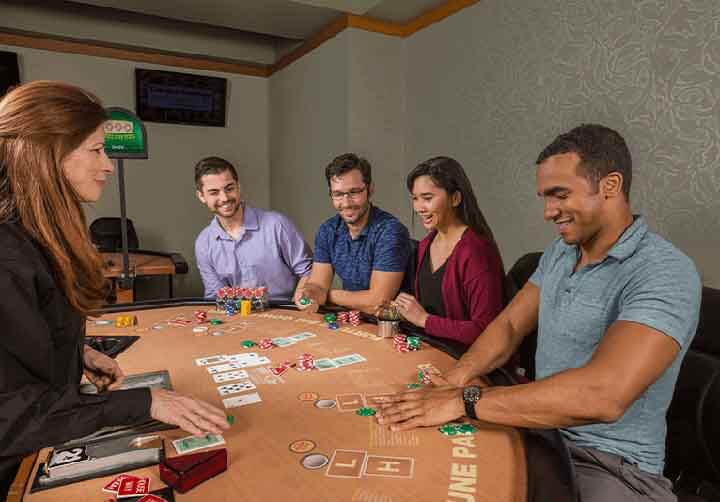 They're fun, fast-paced, and you only have to beat the dealer to win! If you're a table games' lover, you can expect to find the following at Daytona Beach:
High Card Flush Poker
DJ Wild Stud Poker
One Card Poker
Fortune Pai Gow Poker
You can also have a good time betting on some races. Daytona Beach has simulcast racing on Premier Tracks, so you can up the ante when playing here.
If you're a fan of racing, you'll be pleased to know that you can now bet on live races taking place in the UK for the first time. So take a seat, sit back, and relax as you watch those wagers come in with a drink at the bar or having dinner at Clubhouse Restaurant.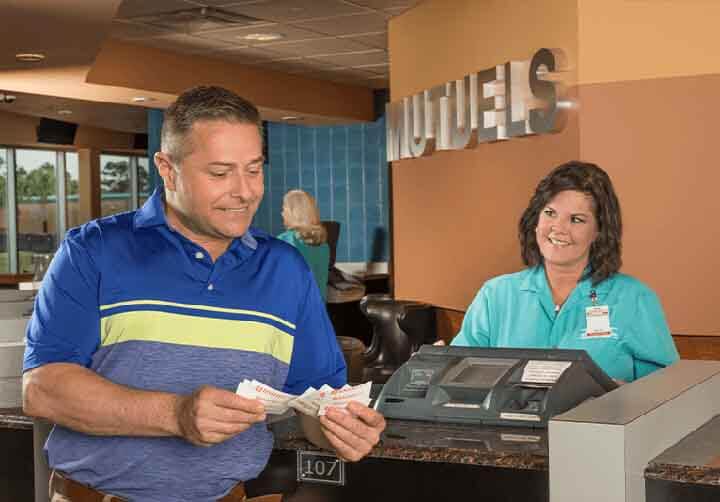 Daytona Beach – Bars & Restaurants
When judged on being solely a poker room, Daytona Beach is a great place to visit, but if you're looking for a one-stop-shop for all things entertainment and accommodation, then you might be disappointed.
With no hotel and entertainment venues, the only other non-gambling-related thing you can do is get a drink or a bite to eat.
There are two bars where you can grab a beer or a soft drink: the Lobby Bar and the Simulcast Bar. Both are very nice places, but at the Lobby Bar, you can get a better selection of craft beers as well as some snacks.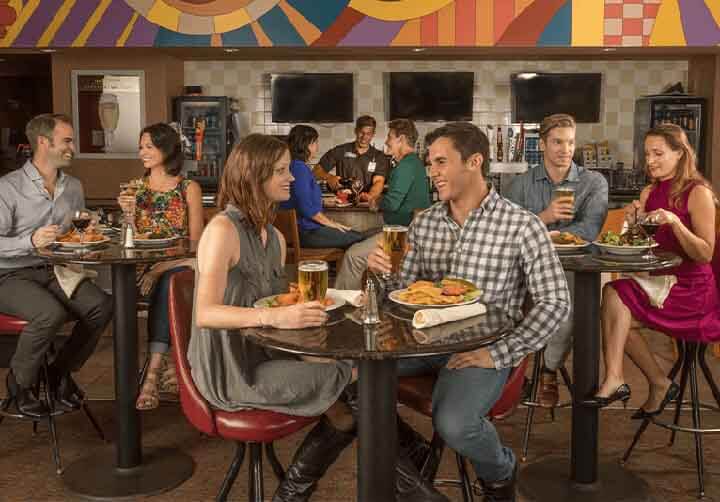 The Clubhouse Restaurant is a pretty standard eatery, nothing too flashy, but nice enough to grab a burger as you catch some racing action.
Daytona Beach – Keeping You Safe Against Covid-19
Playing live poker or going anywhere these days can cause some levels of anxiety, but Daytona Beach is following all safety guidelines to keep team members and the public safe.
All the necessary precautions are in place, including advanced cleaning protocols, hand sanitizing stations, team members' training, and so on.
Guests are also asked to play their part by making sure they're adhering to social distancing rules and wearing a face cover.
Everyone who wants to go in will need to pass a temperature check, but it's all worth doing so you can get in on the action.
Final Thoughts on the Daytona Beach Poker Room
Whether you're just starting out in poker or are a veteran of the felt, you're bound to find a poker cash game or a tournament to enjoy here.
Offering some of the best action in the surrounding area, there's little wrong with the Daytona Beach Poker Room. In addition to plenty of action, there are also many promotions you can take advantage of.
The establishment might not tick all your boxes for entertainment, but it's a great place to play some cards, watch some racing, and grab a nice cold beer.
The venue doesn't offer some of the popular casino games like roulette or craps, but if your goal is primarily to play poker, you will feel at home here!