Kings Casino Poker Room Review: Stay and Play at Europe's Largest Poker Room
Play, dine, relax and sleep like a king in Europe's premier poker hotspot on the German and Czech Republic border.
With a first-class casino and poker room, well-regarded restaurant and buffet as well as a tranquil spa and 5-star rated hotel, where else would you want a European poker adventure?
King's Casino Poker Room Review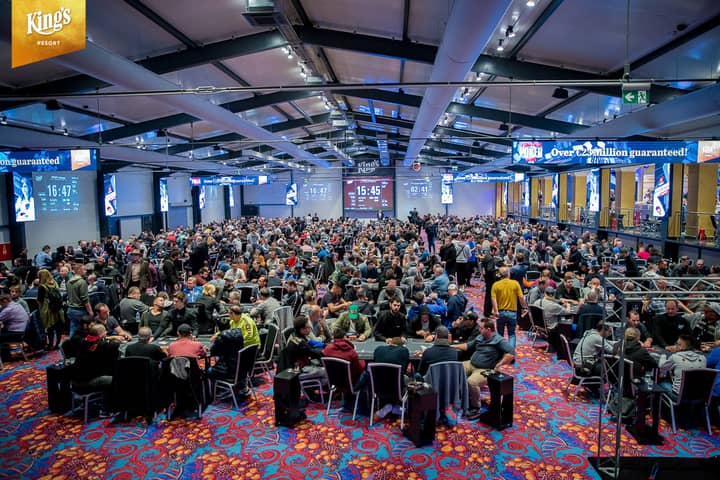 King's Resort Poker Room is the biggest in Europe, with over 200 poker tables!
The chairs and equipment score highly amongst poker players for comfort, and their poker chips are among the finest.
Games run 8-handed, ensuring there's plenty of space for players for added comfort.
As the flag-bearer for European poker rooms, King's Resort prides itself on leading by example for the rest of the continent.
Unfortunately, there is no app like the Bravo Poker to track what games are running, but there is a Live at King's tab on their website that should tell you what is available for you to play.
King's Casino Poker Room Cash Games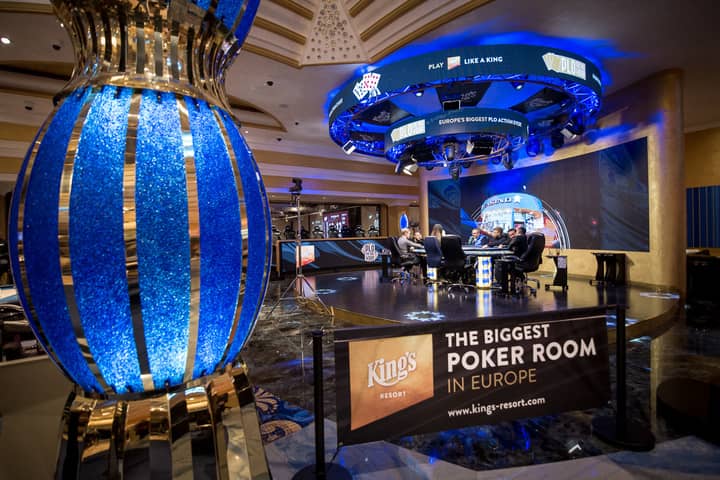 The games that always run at the King's Resort Poker Room is limited to just No-Limit Hold'em and PLO poker, but this is the norm for most European casinos.
However, you can request any game at any limit, and the poker room will help you set that up.
I suppose this makes sense because there is no point running a game 24/7 that isn't in demand, but it is nice to know that if you are in a group and looking to play a poker variant like Short Deck poker, your request has a high chance of being accepted.
There's a wide variety of stakes to play too. Whether you play low stakes or crush in the big games, you'll be able to sit at a table that compliments your bankroll.
NLHE stakes begin at €1/3, and PLO at €2/€2. You can play both poker variants as well in the stakes such as:
€2/€5: Min buy-in €200
€5/€10: Min buy-in €500
€10/€25: Min buy-in €1,000
€25/€50: Min buy-in €2,000
€50/€100: Min buy-in €5,000
As King's resort states, no limit is their motto, so all the games have uncapped buy-in so you can make some creative poker plays and tangle in some monster pots at the lowest stakes.

The Rake
The poker community often criticizes the rake in most European poker-centric casinos, which make no exceptions for the rake at the lower stakes.
At €1/€3, a rake is 5% capped at a massive €20, this is the same for the €2/€5 and €5/€10.
Higher stakes game like €10/€25 is 5% and only capped at €25, which is much more palatable, but of course, these are stakes most of the recreational poker population won't be playing, so it is a bit unfair to those players.
According to the twoplustwo poker forum, some poker dealers also confirmed that tips are kept by King's Resort too, so make sure you know this for sure before you start tipping dealers as the house is already taking enough off you in rake.
King's Resort Poker Tournaments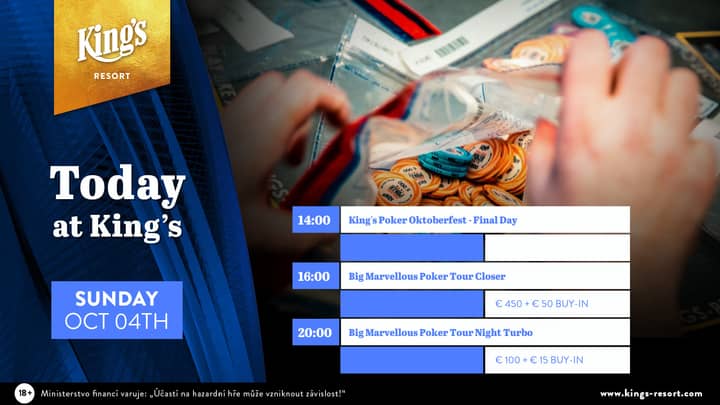 Poker tournament grinders will be happy to know that tournaments are offered daily with prize pools from €3,000 and higher.
You'll find that multiple tournaments are going on on special days, which is a perk of having a poker room with over 200 tables!
Rozvadov is becoming the home of major poker tournaments in Europe, which shows how well this poker room is thought of by the global poker community.
There are not many establishments where the main focus is poker, but thanks to King's Resort owner and high stakes poker player Leon Tsoukernik, now there is one.
He has given the European poker community the first-class hub to play in some of the biggest tournaments and cash games.
Barcelona Casino is home of the WSOPE & WSOP Circuit Tournament Series.
As well as offering multiple one day and multi-day tournaments, King's Resort has now become the home of the World Series of Poker Europe and a stop on the WSOP Circuit Tournament Tour.
Both were affected by the current pandemic, but previous years have seen thousands of poker players flock to the Czech Republic to get a slice of the action.
If the WSOP trusts King's Resort to run their second flagship event in their poker calendar, then you know you are playing in a top draw poker room.
King's Resort Poker Room Staff
Colleagues at King's Resort score high across the board. Staff is said to be polite, attentive, knowledgeable, and competent.
Many of the live dealers are bi-lingual, which makes you feel at ease and welcome.
Poker dealers control the games well, and with the high stakes games on offers, you know they're trusted to be on the top of their game.
Professionalism oozes throughout the King's Resort while still maintain a fun and upbeat atmosphere.
Parking at King's Resort
There is free self-parking for guests at King's Resort. The parking garage is guarded given you extra peace of mind about your vehicle.
King's Resort Casino Games
The casino at King's Resort is a touch of Las Vegas in the heart of Europe. It really is a first-class casino, so you will surely find what to try after you finish playing all of your poker hands in the session.
There's a plethora of live table games and slots to choose from, which you can find out below.
Another aspect of King's Resort Casino, which sets it apart from most major casinos on the continent, is that it has one of only two Craps table in Europe!
There are around four seats per gaming table, so being cramped shouldn't be an issue unless the floor is overly busy.
The casino bar stretched from wall to another, offering some of the best Czech beer and other top-shelf spirits. If you are unfamiliar with Czech lager, then I'll recommend you Staropramen, it really knows how to quench a first.
Slots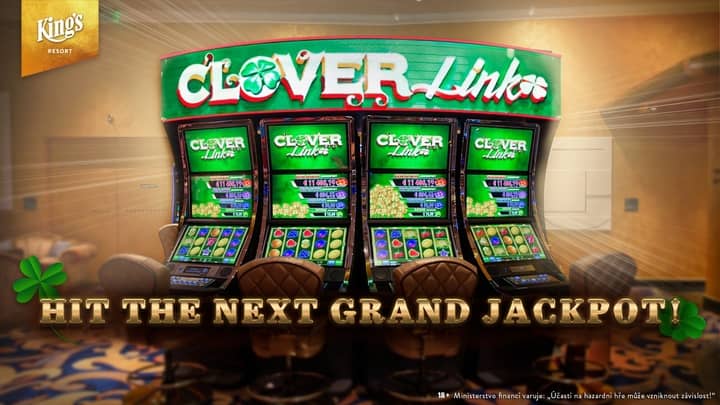 King's Resort hosts your favorite classic and modern slot machines, and with over 300 slots to choose from, you'll find a game that suits your needs.
One of the most popular and innovative slot machines is the APEX Clover Link.
As someone who is not well versed in slots and finds little enjoyment in them, I do have to say that this is a game I could find myself sitting at while waiting for a poker tournament or a poker cash game seat to open.
This machine offers a multi-game experience and has a four-level jackpot. It includes mystery and progressive jackpots as well!
There are around 25 Clover Link machines available for you to play on the vast casino gaming floor. This summer (2020) alone saw 2 grand jackpots hit in a single week on Clover Link. Two lucky punters turned a €12.50 bet and a €2.50 bet into €10,846 and €10,869, respectively!
Table Games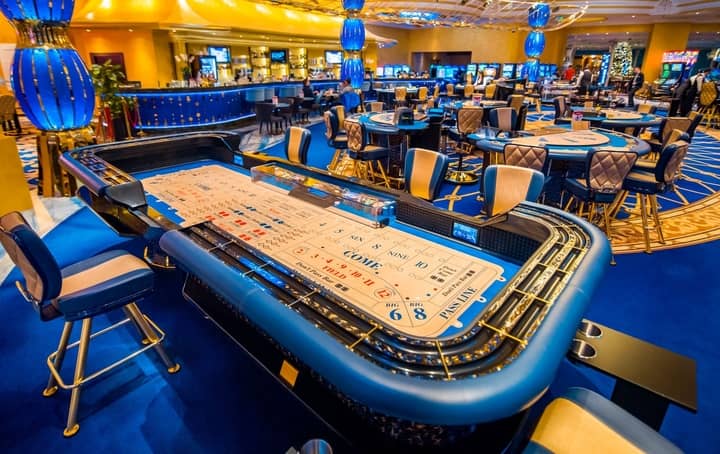 King's Resort has a great selection of table games to get stuck into when you are in town, with over 15 live casino games for you to enjoy across the 40+ gaming tables.
Here's some of the games that are offered on the casino floor:
European Roulette – Min Bet €2, Max Bet €1,000
American Roulette – Min Bet €2, Max Bet €1,000
Punto Banco Baccarat – Min Bet €20, Max Bet €100,000
Craps – Min Bet €10, Max Bet €5,000

Blackjack

– Min Bet €5, Max Bet €10,000
Switch Blackjack – Min Bet €5, Max Bet €10,000
Free Blackjack – Min Bet €5, Max Bet €10,000

Russian Poker

– Min Bet €10, Max payout €100,000
King's Hold'em – Min Bet €10, Max Bet €2,000

Ultimate Texas Hold'em

– Min Bet €10, Max payout €100,000
Barbut – Min Bet €10, Max Bet €2,000
Know you should be familiar with or at least heard of many of the games above, but there's probably one that you may have never come across, and that is the game of Barbut.
Barbut is a dice-based game with some pretty simple rules and play.
It uses two six-sided dices, and the game is started by players placing bets.
There are two betting options, a bet in the red area and a bet in the yellow area. The winning dice roll combinations for the red area are 1-1 / 2-2 / 4-4 / 1-2 and for the yellow area are 3-3 / 5-5 / 6-6 / 5-6.
The first player is the one to roll both dice until one of the winning combinations is rolled. If the dice displays none of the winning combos, the player keeps rolling, with the bets staying in place, until a qualifying combo is rolled.
Payouts will be clearly displayed while you are playing, but typically the payout structure resembles the following:
1-2 / 2-2 / 4-4: Pays 1 to 1
3-3 / 5-5 / 5-6: Pays 1 to 1
1-1 / 6-6: Pays 1 to 2 or 50%
All other combos – Bets remain in place
High Stakes Casino Games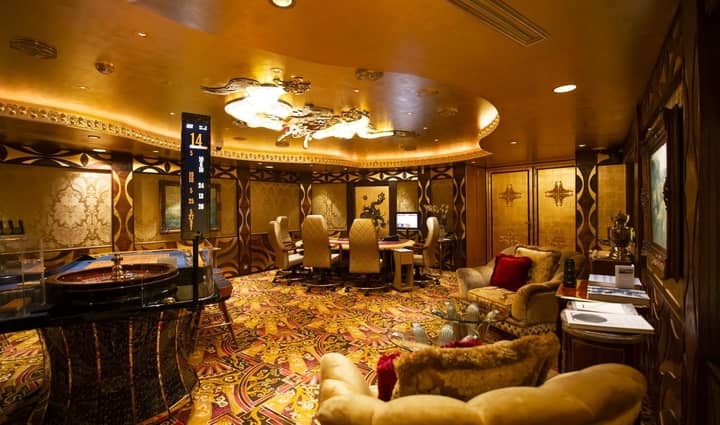 For the high-roller among you, you will be pleased to know you can play high stakes casino games in private at the VIP Salon.
You are not limited in what you can play in this room either, as you select the casino games to play!
And if that doesn't sell it to you, then there's also a private bar, bathroom with a sauna, and a massage room for you to enjoy as well.
King's Resort – What to Expect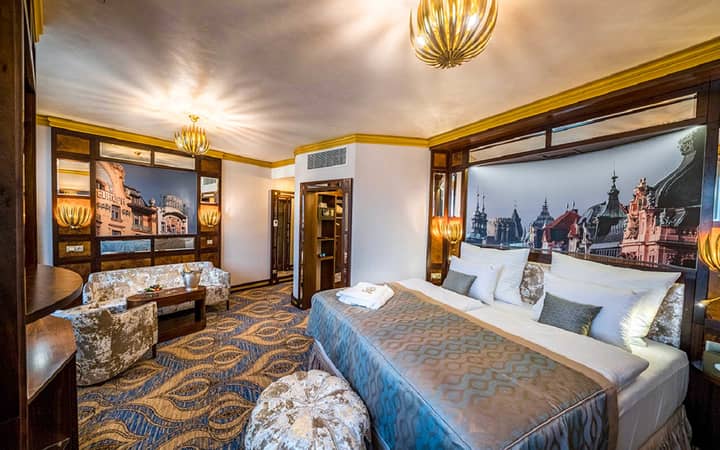 With over 400 rooms and suites across two hotel blocks, luxury awaits you with competitive rates.
With rooms from just €60 a night, you can have a 5-star experience.
The rooms are spacious and well designed, with golden embroidery and stylish interior, a stay at King's resort is fit for well…a king!
Rooms vary from the Superior Rooms to the King Leon's suite, which has its own private whirlpool! A possible bargaining chip to entice your partner to come and stay.
Dining options are limited, in the sense that there two dining venues. You have the Radimsky Restaurant and the freshly-prepared buffet, which is complimentary if you are a guest at the resort.
Radimsky Restaurant offers world-class gastronomy with some of the best dishes that France and Italy have given the world, as well as their well sought after wines.
This is a true fine-dining experience with all the precise details.
King's take hospitality extremely seriously, and should you be stuck in what you want to order, the servers on hand will be able to recommend dishes that are best suited to your taste-buds.
The restaurant is also decorated in fantastic artwork of Czech Impressionist Radimsky, which really lets you know you are dining like a king.
King's Resort – Things to Do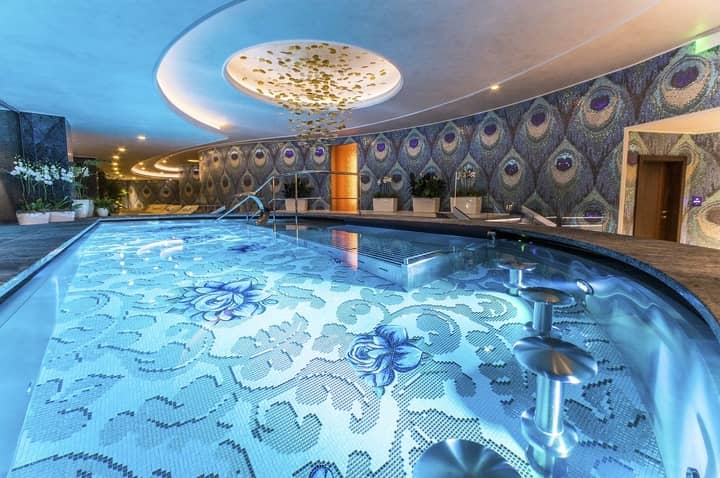 Know if you are looking for a Vegas-Esque hotel with all the amenities that Wynn poker room or Bellagio may offer, for example, then you may be a bit disappointed.
The major non-related casino activity that you can enjoy at King's Resort is their wellness center.
Before you hit the poker felt, you can get steamy in the Finnish sauna or on one of the steam baths. Or you can partake in a few laps of the idyllic pool with some amazing views of the Bohemian Forest.
You can also experience treatments and Thai massages to get rid of any aches and pains you may be carrying. After all, you can treat yourself to a haircut at the barbershop, which will make you look as sharp as can be before you start running some major bluffs.
King's Resort – Keeping You Safe Against Covid-19
King's Resort has your health and safety as one of its top priorities. You'll find that there are temperature checks upon arrival, masks are mandatory, and routine cleaning has been increased to exceed the already high standards that King's Resort already has.
At the time of writing this article, the casino at King's Resort closed its doors on 8 October 2020 due to government covid-19 regulations. The hotel and other amenities are open in this timeframe, but the resort will be in full operation from 26 October 2020.
Poker tournaments are currently suspended, but all cash games are running as normal. Keep an eye on the King's Resort website to find out when their tournament calendar is back up.
Kings Resort And Casino – The Final Thoughts
If you're looking to expand your poker horizons, then a stop at King's Resort is a must. It is the premier destination for European Poker, offering some of the largest and biggest cash games and tournaments.
The poker room is well thought of amongst the global poker community, which should put you at ease.
The rake is a little questionable, but if you're just looking to kick back and have a good time, this should be of no concern.
Non-casino amenities are lacking compared to Vegas establishments, but the spa and wellness center offers a nice change of pace that a bustling casino floor gives you.
King's Resort can offer you a 5-star experience for a 3-star price, so in that regard, a stay here is value for money.
So grab some poker training, prepare for your games, and visit this destination.